Expand your living space with a customized porch that blends seamlessly into your house's architecture and style.
Magnolia Home Remodeling Group is an NJ Porch Remodeling Contractor installing and repairing porches. Wood, composite, or masonry porches, enclosures with brick or stone, and other porch accents can complement your home, and Magnolia Home can help!
The size and type of your house porch is primarily dictated by your budget, space and overall look. Magnolia Home Remodeling Group offers affordable porch remodeling ideas and solutions that allow you to build the porch of your dreams without spending too much. Whether you choose to dress up your front entry or create more living space with a screen porch, covered porch or enclosed porch addition, Magnolia Home Remodeling Group will help you make your ideas become reality.
Your porch is different from a deck in that it usually has a cover, and parts of a porch can be enclosed as well. Your options to build out your porch and extend it are endless. Nothing is stopping you from building the wrap-around porch of your dreams. Turn your porch into an extended deck option that will leave room for your swinging bench for the cool, breezy evenings outside.
Portfolio Galleries
:
See how a custom porch can transform your home by exploring these past projects.
Types of Porch & Steps Services
Magnolia Home Remodeling Group specializes in custom porch designs. Your porch remodeling project should be aesthetically pleasing to your style home, and we work closely with New Jersey homeowners to customize a porch that fits the mold and enhances the architecture of your home.
Your porch should seamlessly blend into the existing design.
We strive to make new porches look like they've always been a part of your property, making our projects match your current home in aesthetics, design, and material.
An enclosed porch is a great way to expand the living space of your home. Whether you want an attached porch in your backyard or a stand-alone enclosed porch on the deck or near the pool, we'll work with you to help you decide what best matches your home and your budget.
You can find the best material that is right for your porch, whether it be wood, composite, or stone. You can first decide on a design and then research the material that is best to use according to your climate and whether the porch will need to accommodate heavy traffic. Our team works with premium brands to bring you the best materials available. We look forward to the opportunity to earn your business as one of the best porch contractors in NJ.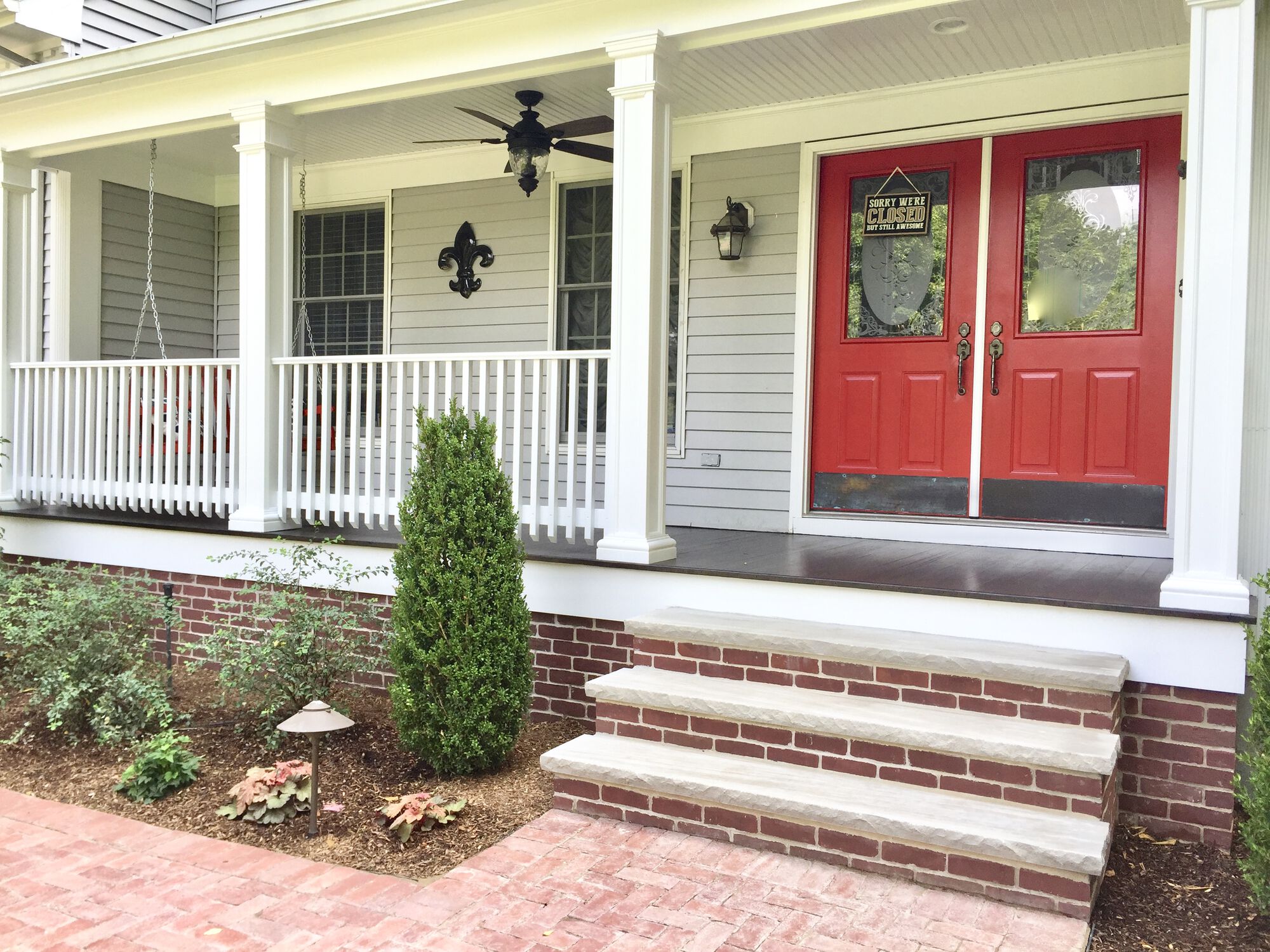 Wood Porches and Steps
Wood porch flooring can add a warm and inviting touch to your front porch. When we build the steps, we build with safety in mind, adding sturdy railings that are ergonomically designed for all.
Your front porch is often the first impression that people get of your home. Would you like to expand it to include a spot to sit and visit with friends and neighbors? Do you want an area for plants and décor? There are so many ways to upgrade your front porch.
Wood decking can also save you money in the long run since synthetic material decks, like vinyl, can be twice as expensive as wood. Maintaining your deck will help it last for a very long time, and the maintenance of wood decking isn't that difficult.
Our group is the premier custom wood porch contractor in NJ. You will not be disappointed with our quality of installation and materials. Our carpenters will build you the porch you've been anticipating for years.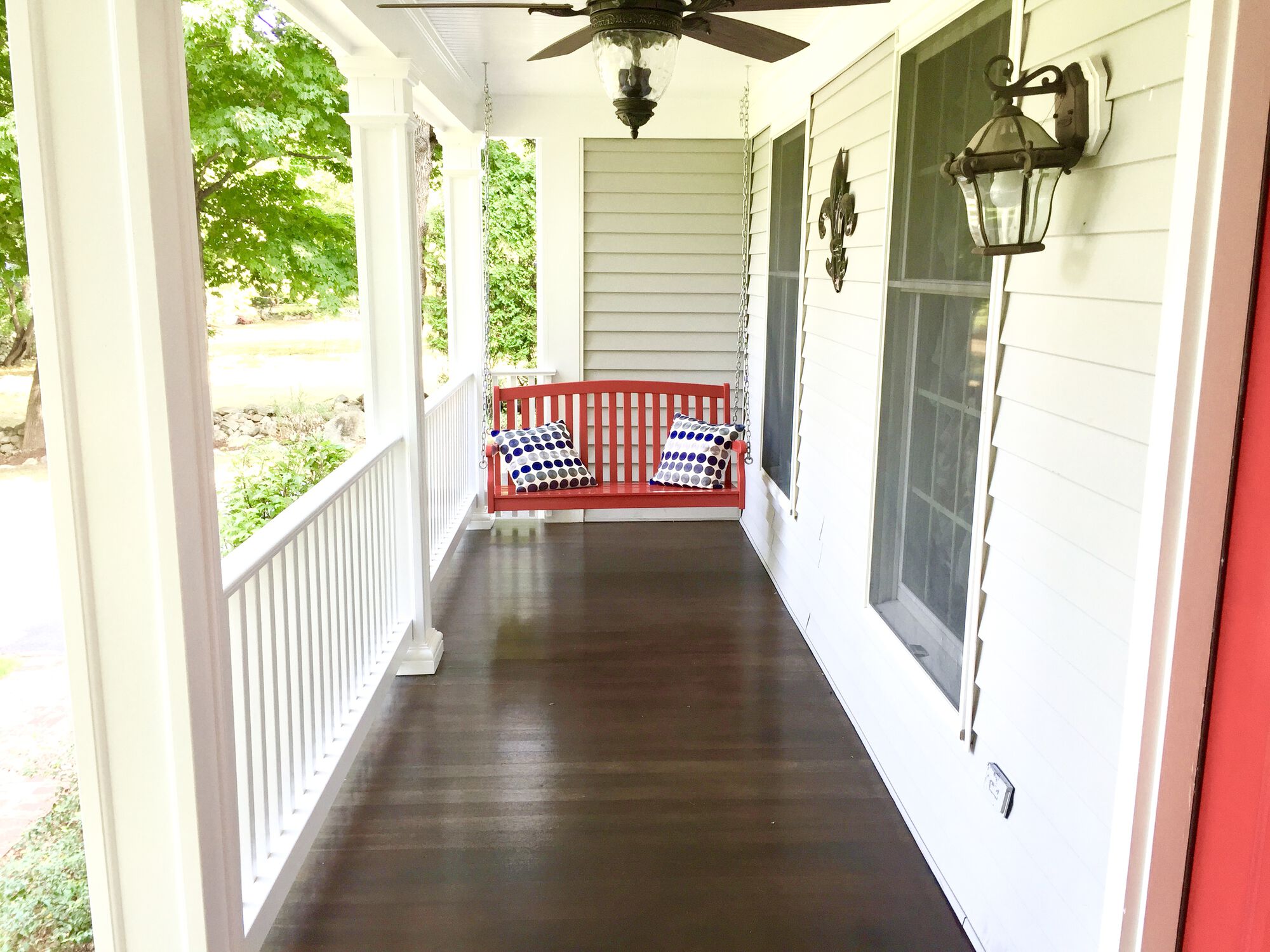 Composite Porches and Steps
When you choose a composite porch, you get the best of both worlds with the look of wood while accessing the benefits of a longer-lasting material. Composite porches do not warp or weather over time.
With premium brands like Azek, Trex and TimberTech, your composite porch will last years without showing signs of fading, splinting, or weathering. The composite materials can be chosen in a color that does not need to be repainted or stained.
The steps are built with safety in mind, making it easy to walk up to your doorstep. You can trust that our porch and step contractors will build you a porch that you will love requiring minimal maintenance.
From a visual standpoint, it's getting harder and harder to distinguish between composite decking and traditional wood decking. Today's composite decking installed by Magnolia Home Remodeling features natural wood grain patterns and colors that mimic stained or painted wood composite.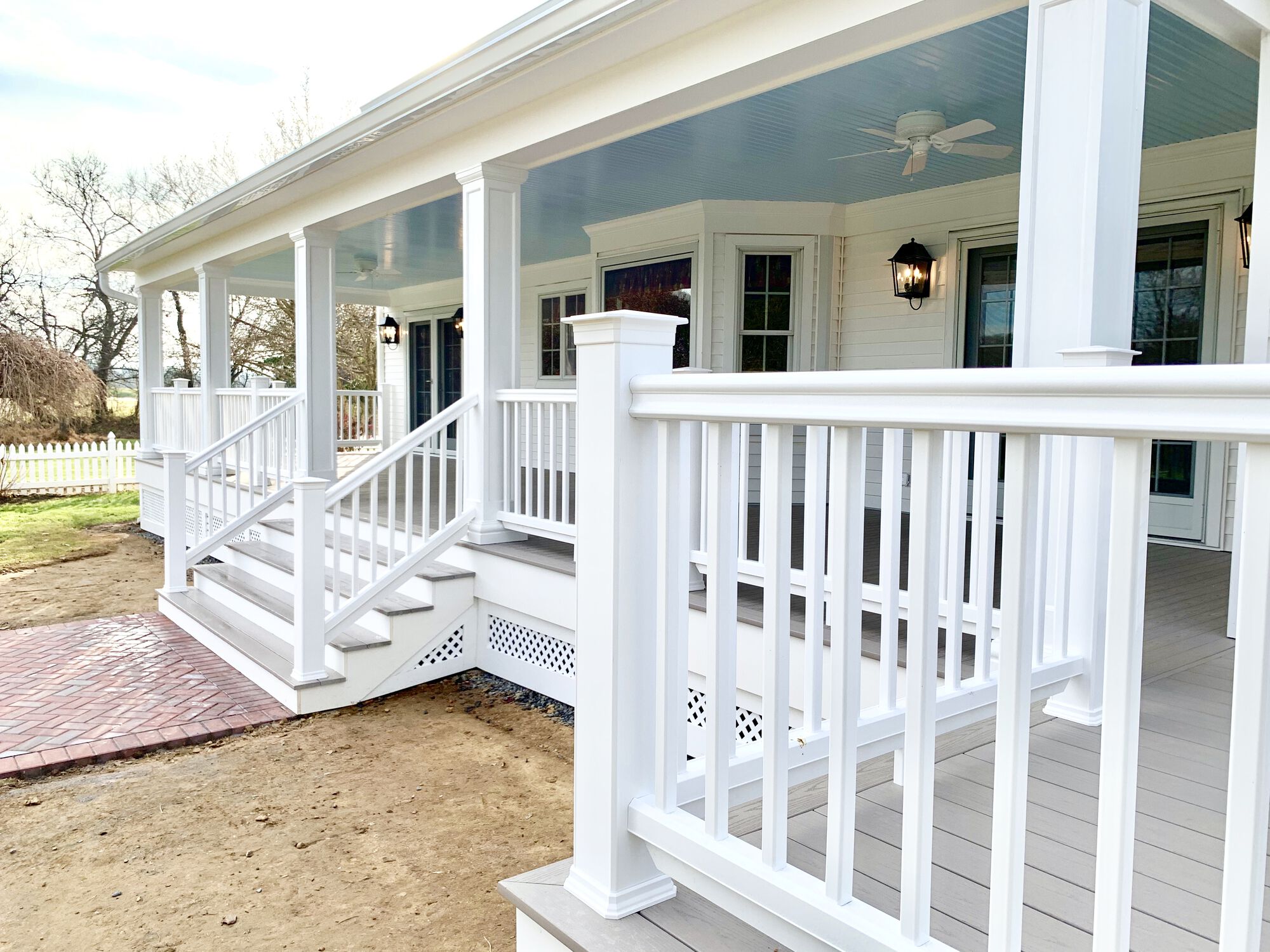 Masonry Porches and Steps
A stone porch and stairs are a great option if you want to go with the masonry route. Our pavers can take natural stones and create safe and beautiful stairs leading up to your porch. The walkways are carefully planned out with safety in mind.
The stone steps and porch create a specific esthetic that can accentuate the design of your home. With masonry porches and steps, there is little upkeep required. They last forever and can be power washed and swept as needed.
Your custom porch design can become a reality when you use a new porch to transform the curb appeal of your home. Our remodeling contractors will walk you through every step of the design and installation process to be sure that your needs are met and expectations exceeded.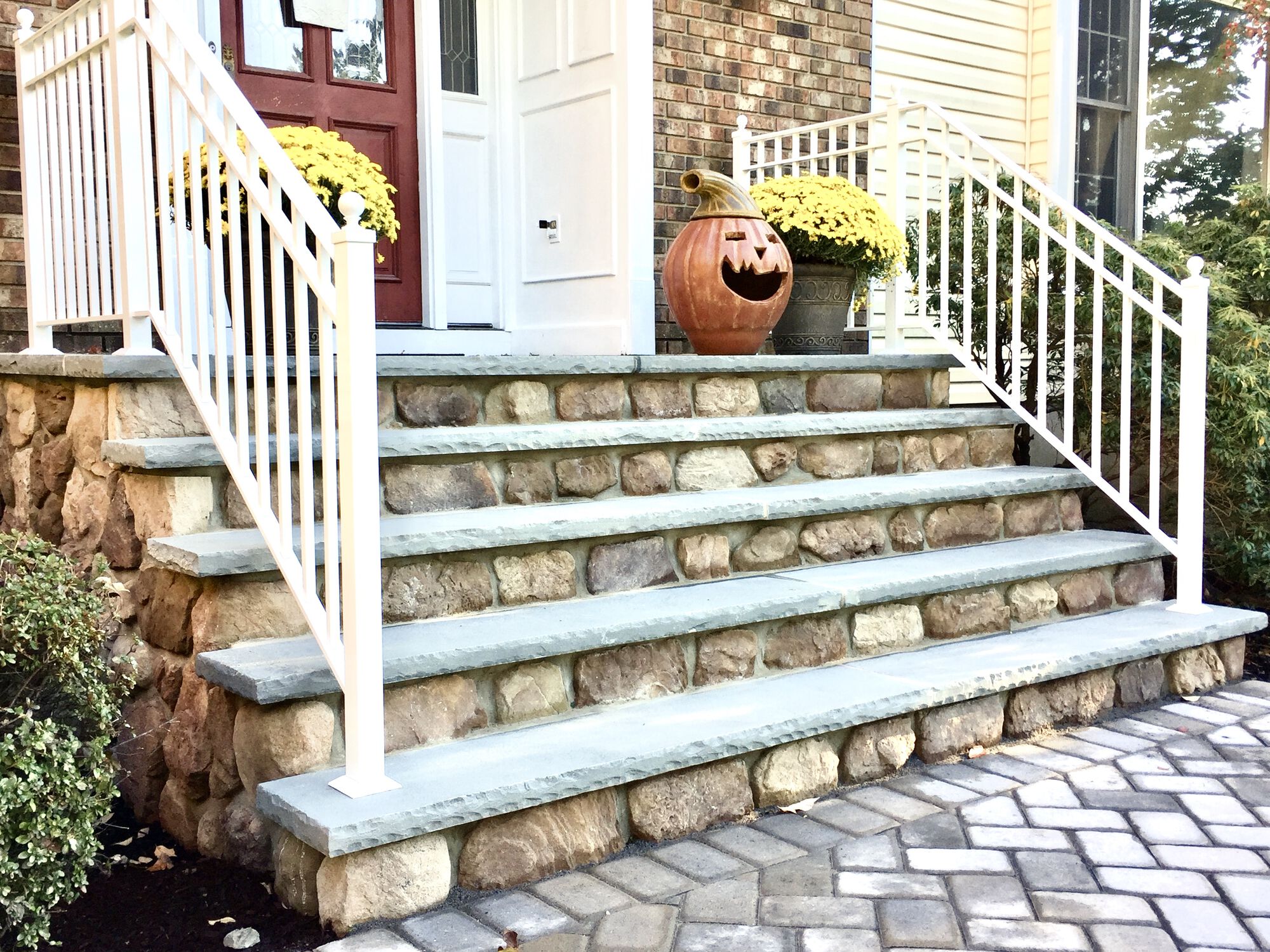 NJ Porch and Step Contractor
Magnolia Home Remodeling Group is the premier installer in NJ for custom porches and steps. Our team has over 30 years of experience in the industry and works with premium brands to bring you the highest quality results. We work hard to maintain a flawless reputation as we serve NJ residents.
Your custom porch design can become a reality when you choose a wood, composite, or masonry porch to transform the curb appeal of your home. Our remodeling contractors will walk
We offer 100% Home Improvement Financing for all porch enhancement and remodeling projects with low monthly payment plans.
Please call us anytime at 855-624-6655 or contact us by filling out the request for an estimate, and we will schedule a free estimate, explaining all the product options and prices available. Our home remodeling services are reasonable and our workmanship is exceptional. We appreciate you considering our company to remodel your porch!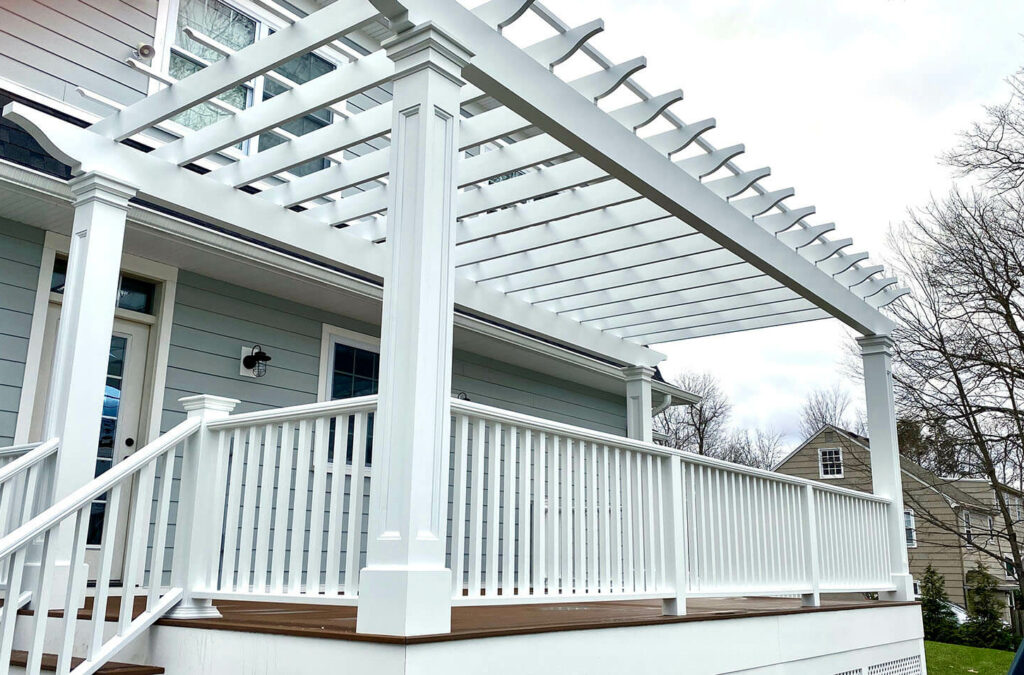 Start Your Home Remodeling Project Today
Magnolia Home Remodeling Group specializes in both interior and exterior remodeling, we obtain all necessary permits and all of our work comes with a warranty. Magnolia Home Remodeling Group is fully insured, licensed with The New Jersey Department of Banking and Insurance, registered as a Home Improvement Contractor with The New Jersey Division of Consumer Affairs, and you can learn more about us on Angie's List, Yelp, Better Business Bureau, or from local references we will gladly provide.
Contact Magnolia Today