The Job: Transform an Existing Patio Into a Covered Porch
These clients enjoy spending time outdoors, but their existing patio was exposed to the elements and wasn't a perfect fit for their needs. They wanted to create a new space that could be enjoyed in all types of weather and would be a beautiful area to entertain in when they hosted guests. A covered porch addition was the perfect solution!
Problem Areas: Lack of Shelter and Visual Interest
This home's existing outdoor living space featured a concrete patio that was a good base, but the lack of a roof and any additional visual focal points left the space feeling incomplete. These clients couldn't easily use their patio during the heat of the summer thanks to its exposure to the harsh sun, and if a storm was approaching, plants needed to be moved indoors.
The Goal: Create a Beautiful, Functional Outdoor Living Space
Our team worked closely with these homeowners to create a covered porch addition that felt like a seamless part of their home while elevating its curb appeal and style through natural stone, stylish columns, and other functional upgrades. The result was a stunning space that will serve as a focal point to be enjoyed by these clients and their guests for years to come!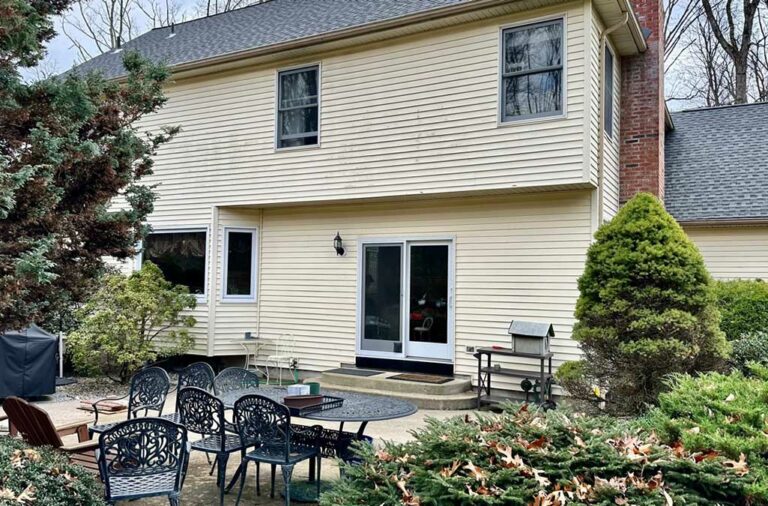 A Roof-Framed Patio

The addition of this custom-designed roof seamlessly blends with the existing architecture of the home, enhancing its aesthetics and functionality. With meticulous attention to detail, our team constructed a sturdy roof framework over the patio space to give these clients reliable protection from the elements that they'll enjoy year after year as a usable extension of their home.

GAF Shingle Roofing for Long-Distance Durability

GAF shingle roofing was the perfect choice for this roof because it ensures long-lasting durability and protection for our clients' porch area. They can enjoy peace of mind knowing that their porch is shielded from the elements with GAF's Advanced Protection® shingle technology, which not only offers superior durability but also adds to the overall beauty of the home. Because of the wide range of styles and colors available, we were able to work closely with these homeowners in customizing their porch roof to complement the home's existing architecture.

Natural Stone for Piers and Rear Accent Wall

Natural stone piers are a focal point of this porch addition. They provide a solid foundation for the porch while adding a touch of elegance and sophistication. Crafted with meticulous attention to detail, these piers showcase the beauty and durability of natural stone, enhancing the overall aesthetic appeal of the porch. After the clients saw and loved the stone piers, the rear accent wall was added. It acts as a striking focal point, adding visual interest and creating natural ambiance within the outdoor space.

Quality AZEK Composite Trim for Porch Posts

AZEK Trim is renowned for its exceptional craftsmanship and low-maintenance requirements, making it the perfect choice for porch posts that are both functional and visually appealing. The AZEK Trim chosen for this roof addition not only provides a sleek and polished look to the porch but also offers superior resistance to moisture, insects, and rot. Its remarkable durability ensures that the porch posts will stand the test of time, requiring minimal upkeep for the homeowners.

Exterior Porch LED Lighting

The finishing touch on this covered porch addition included the introduction of LED lighting and a ceiling fan to make this outdoor living space comfortable and functional at all times of day. LED lights offer numerous benefits, including long lifespan, low energy consumption, and versatility in design, while the ceiling fan creates a wonderful breeze on hot days. The fan also creates the airflow necessary to keep insects from gathering while the homeowners and their guests are enjoying time under their new roof.

Financing for NJ Covered Porches, Decks, and Additions

At Magnolia Home Remodeling Group, we understand that financing plays a crucial role in making your remodeling dreams a reality, which is why we offer a range of affordable financing options tailored to your specific needs. Through our trusted network of lenders, we can help facilitate a seamless application process. To explore your financing options and kick-start your remodeling project, reach out to our team today. You can contact us at (855) 624-6655 or request a free estimate via our website.
Learn the Magnolia Difference
Contact Magnolia Home Remodeling for a Free Estimate & Consultation.
Meet with our contractors to go over your plans and get inspired by new design ideas from our professionals familiar with the New Jersey kitchen renovation industry.