Techo-Bloc is a leading provider of hardscapes for your backyard, pool, garden, and driveway. With natural and quality materials, you can create a piece of art with the stones and patterns that you choose. You can always rely on Techo-Bloc products for your outdoor design plans.
Our contractors at Magnolia Home Remodeling Group proudly use Techo-Bloc products, knowing that our customers deserve the best. Our expert contractors are familiar with the materials to build your patio or backyard fire pit seamlessly.
Masonry Products and Features
You can make a statement with the way you present the outside of your home. Whether you want a patio slab, artistic pavers, retaining walls, stone steps, or a fire pit, Techo-Bloc offers it all! You can wow your visitors and neighbors with your luxurious outdoor style.
Pavers
Pavers are a great way to make your outdoor space unique and representative of your personality. Instead of a standard sidewalk, you can lay geometric shapes of stones to create an inviting pathway to your front door. You can also use pavers for driveways, patios, the front porch, and more.
Choose among intricate shapes, oversized bricks, or giant, slate-style steps laid over rocks. Diamond Smooth is a design that uses diamond-shaped stones to line the driveway, with a variety of colored stones to create a big impression. Eva pavers are slate-textured rectangular stones, adding dimension to your home's first look.
Walls
When building a garden in your backyard, it is sensible to install walls to help keep the raised garden beds in place. Other backyards with steep hills may benefit from retaining walls. Decorative walls are popular as well to hold lanterns that light your walkway to the front door.
Techo-Bloc has a variety of wall material options, including smooth stone, rough brick, staggered stone options, and more. Choose Borealis for a large, rectangular stone design or Graphix to play with layers and depth. You can't go wrong with Tech-Block hardscapes.
Steps
Your home can be transformed with the right stone steps leading up to your front entrance. Think of the value that is added when your home is thoughtfully designed in every aspect, including the exterior. The modern, clean lines of your steps can make for an esthetically pleasing first impression.
There are a variety of step styles available through Techo-Bloc. Venetian Smooth is an organized, gorgeous stone-step layout that will polish any entryway to a home. If you choose Maya, you can add whimsy to your steps with curved, natural-shaped stones. With Techo-Bloc, you can have confidence knowing that any design you choose will deliver stunning outcomes.
Your backyard can upgrade from a dull blank slate to a prime party location with an addition of a fire pit. You can choose a small raised pit or a sizeable full-patio setup. Imagine the late summer nights gathered around a fire, roasting s'mores and telling stories from your childhood.
Techo-Bloc takes your firepit to the next level with their stone designs. Choose Valencia for a round stone fireplace style. Or you can go with Raffinato for a modern, sleek fire pit. Add some patio furniture to match, and you've got yourself a backyard staycation destination.
Techo-Bloc Contractors in NJ
The quality of Techo-Bloc products is unmatched in the hardscape industry. The stone walls, patios, pavers, steps, and fire pits are statement pieces to improve any outdoor space. When you makeover the outside of your home, you are guaranteed to get a return on investment.
We want to help you renovate the outside of your home with Magnolia Home Remodeling Group. Our next-level expertise and value cannot be found with any other contracting company. Do not hesitate to call our team today to get a free estimate on your next home remodeling project.
Related Services
:
Steps, walls, and walkways created using Techo-Bloc products transform your yard into an outdoor space that represents your unique style.
Portfolio Galleries
:
See for yourself the beauty that Techo-Bloc pavers can bring to your home's outdoor spaces.
Start Your Home Remodeling Project Today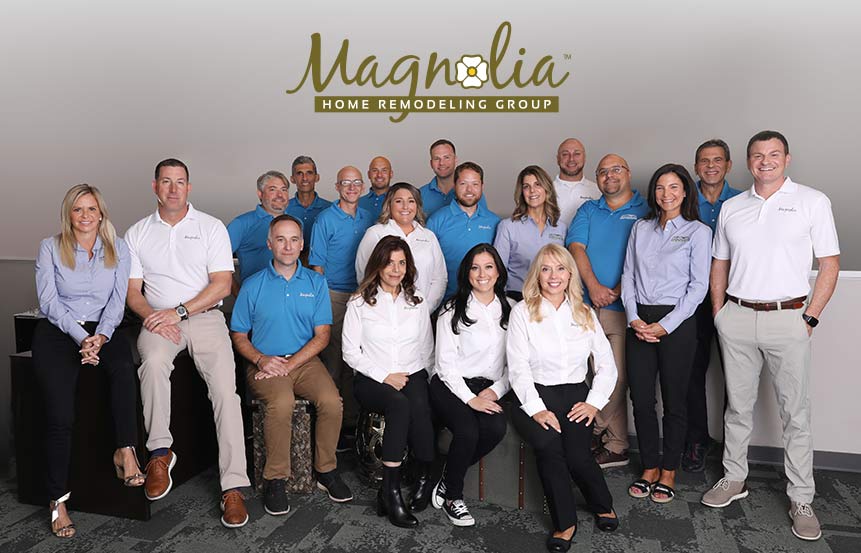 Magnolia Home Remodeling Group specializes in both interior and exterior remodeling. We handle all necessary permits and all of our work comes with a warranty, so you can rest assured your home is in good hands.
Magnolia Home Remodeling Group is fully insured, licensed with The New Jersey Department of Banking and Insurance and registered as a Home Improvement Contractor with The New Jersey Division of Consumer Affairs. Learn more about us on Angie's List, Yelp, Better Business Bureau or from local references we're happy to provide.
Contact Magnolia Today