Bring Your Vision of a Finished Basement to Life
Magnolia Home Remodeling Group is a basement remodeling, finishing, and renovation contractor in New Jersey. Our expert team of basement designers, carpenters, and craftsmen offers reasonable prices and exceptional workmanship on all basement remodeling projects.
We provide a free basement renovation consultation in which we review your space and carefully examine your requirements. We can create a comprehensive plan through a collaborative effort between the homeowner and our designer/project manager, ensuring a successful and efficient basement project.
Whether you are looking to extend family space in your home, add a dedicated office space, increase your storage, or add amenities such as extra bathrooms or entertaining spaces such as in-home theaters, wet bars, or gaming areas, our basement experts can turn your basement space into a place anyone can enjoy.
To start a New Jersey basement renovation or remodeling project today, simply fill out our free estimate form. We'll contact you to schedule a no-obligation estimate with a member of our team to learn every detail of your project's needs. We also offer affordable financing options from high-quality lenders to help you plan your budget!
Portfolio Galleries
:
Explore past basement renovation projects completed by our team to see how we can help you realize your home's full potential.
Basement Remodeling & Finishing Services
Magnolia Home Remodeling Group offers a variety of methods for wall insulation, drywall and paint concepts, lighting and flooring solutions, trim, basement baths, wet bars, and basement kitchens. We feel a finished basement can be a continuation or extension of the home's main living area, with a seamless transition to maximize the use of the new space.
Even if it's currently a cold concrete space crammed with boxes and junk, the lowest floor of your home probably has loads of potential! Treat it just as you would any of the rooms aboveground, and it might become the most popular spot in the house—for much less cash than adding on. Basements are typically about one-third of the entire home's available space (600 to 900 sq. ft. in the average home). In other words, most basements are underused.
Let Magnolia Home Remodeling Group provide a free Basement Remodeling estimate and learn the ways to transform your basement into a work of art.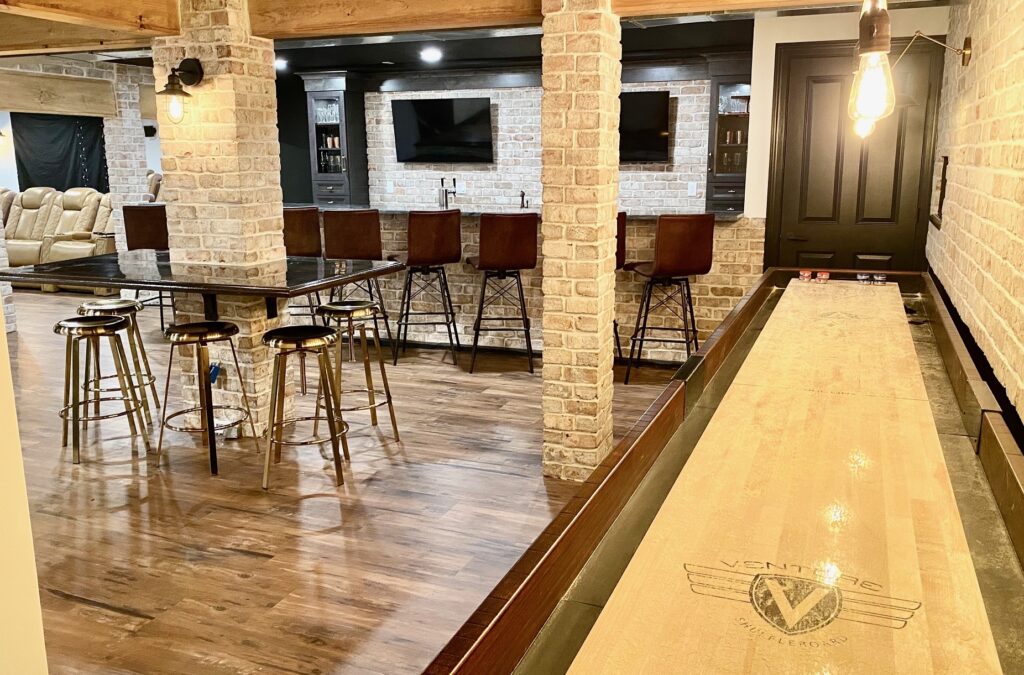 Basement Kitchens and Bar Remodeling
At Magnolia Home Remodeling Group, we offer basement remodeling and finishing services to turn your basement into an oasis for entertaining guests. Whether you would like a gathering place to watch the big game or a game room for your teenagers to get together with friends, we can help.
You can add a wet bar or eat-in kitchen to your basement. Our services include kitchen, bath, and laundry installation, including plumbing, heating, and other essential options you may choose to build out your basement and add extra space to your home.
Any time you create an extra space, you will add value. Whether you use it as an entertainment space, an additional kitchen, or an extended living area, the next owner may need it for a mother-in-law's apartment. Regardless, the new area will be valued and sought after.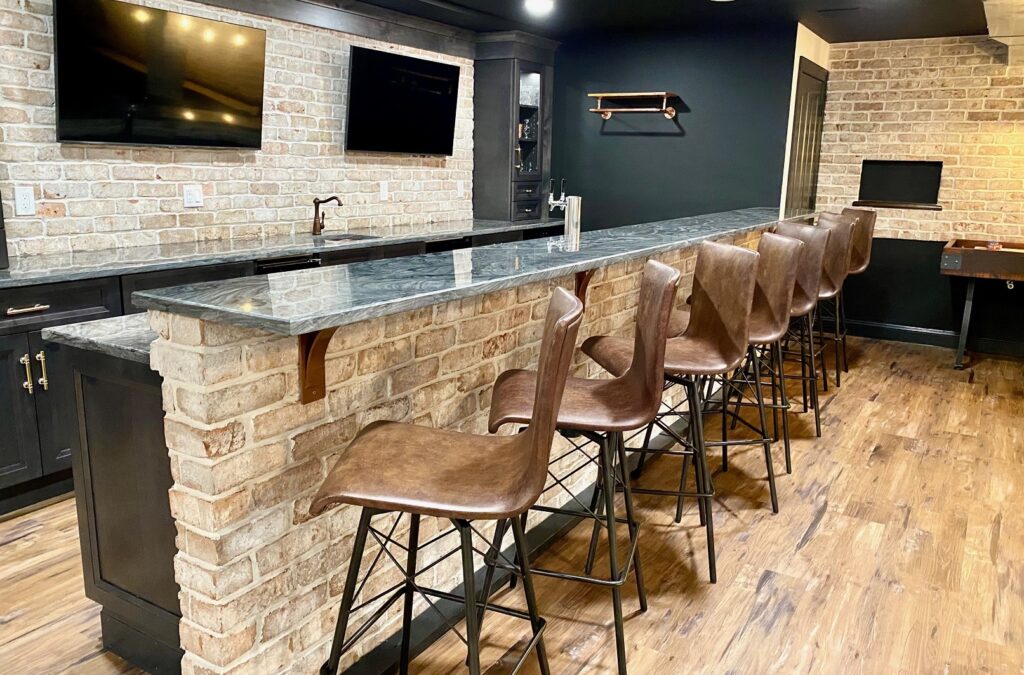 Basement Drywall, Insulation, and Paint
Drywall for the basement works hand-in-hand with the insulation to keep cool air and moisture out. Our basement renovation experts know how important it is to have a continuous layer around the whole basement.
When it comes to insulation, it's much harder to put it in after a basement is finished. If you have a team like ours that does quality work on the insulation around the whole perimeter of the basement, it isn't as necessary for inner-wall closets and bedroom walls. Every insulation has an R-rating. The higher the R-rating, the better it will be at keeping moisture and cool air out of your home.
We also offer painting services. This finishing touch is just as crucial to our team as it is to you. We know that you want to see clean lines and sharp corners. You can transform your existing basement space with a fresh paint job.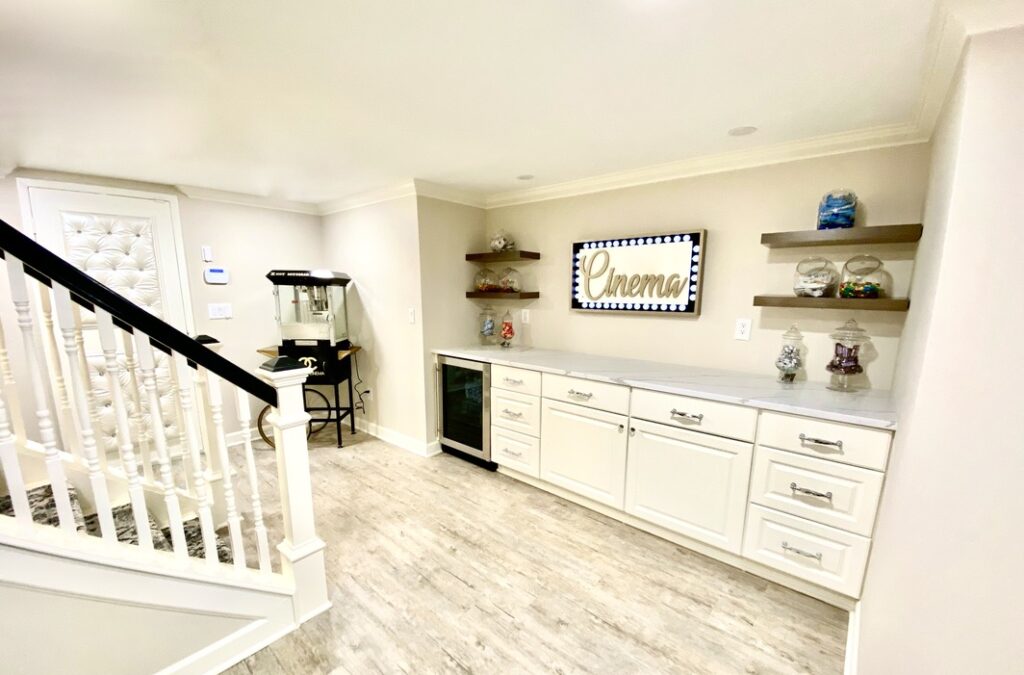 Basement Flooring
Our pro team at Magnolia Home Remodeling Group offers various basement flooring options, including luxury vinyl plank, tile flooring, engineered hardwood, carpet, laminate and more. When choosing basement flooring, you may want to steer away from hardwood that is susceptible to mold and mildew. Carpet pads are great if you protect them from moisture.
Hiring an expert basement contracting team, like Magnolia Home Remodeling Group, will eliminate design or installation mistakes along the way. Our experienced designers and installers will use industry knowledge to renovate the basement of your dreams.
We aim to provide you with comfortable, easy-to-clean, durable options for flooring in your basement. Basements can have heavy traffic with parties and family gatherings. We can offer materials that will clean up nicely and swiftly.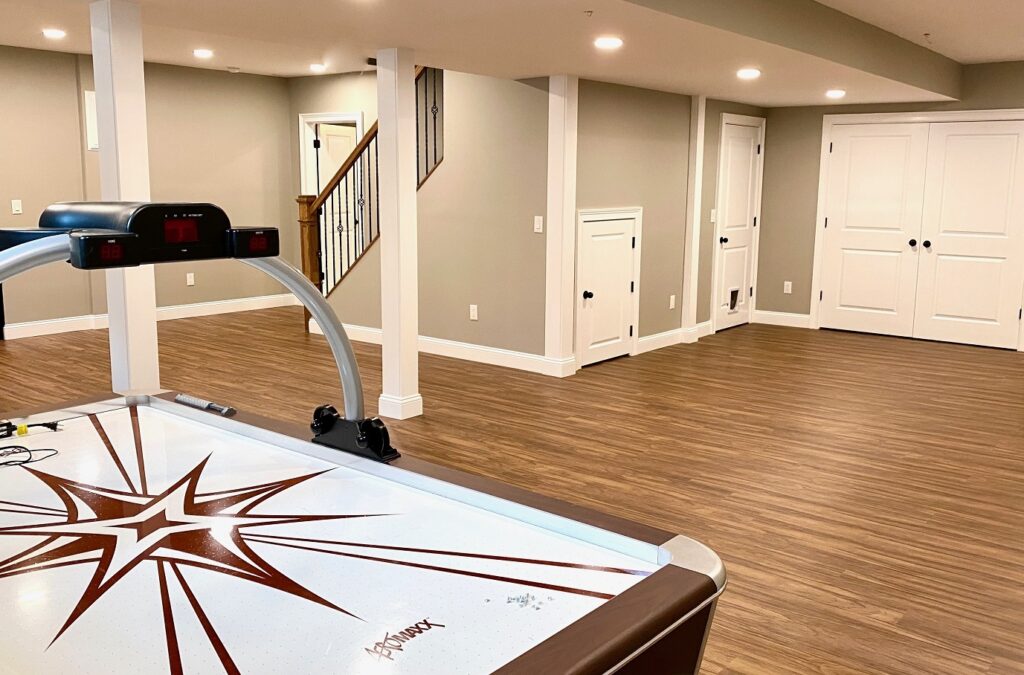 NJ Basement Renovation Contractor
Magnolia Home Remodeling Group is the premier company in NJ for basement remodels. We have 30+ years of experience installing and finishing basement spaces, working collaboratively with the homeowner to build the basement of your dreams.
When you partner with Magnolia Home Remodeling Group, you can leave the stress of a basement remodeling and finishing project to us.
Additionally, we offer 100% Home Improvement Financing for basement remodeling projects, with low monthly payment plans. Please Call 855-624-6655 or fill out a request for an estimate, and a trained basement professional will be in touch!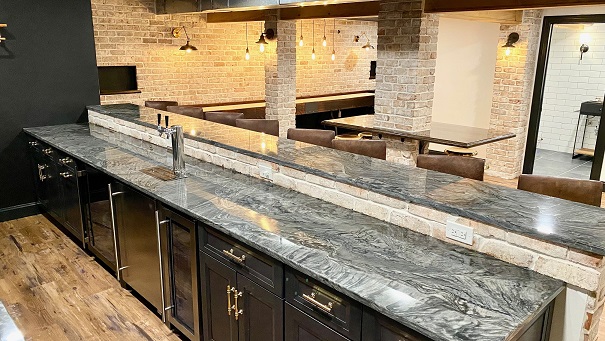 Start Your Home Remodeling Project Today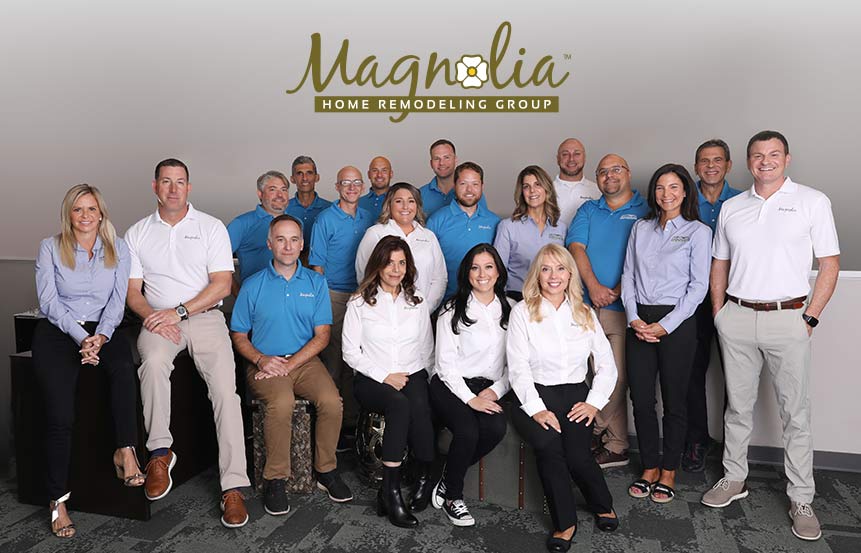 Magnolia Home Remodeling Group specializes in both interior and exterior remodeling. We handle all necessary permits and all of our work comes with a warranty, so you can rest assured your home is in good hands.
Magnolia Home Remodeling Group is fully insured, licensed with The New Jersey Department of Banking and Insurance and registered as a Home Improvement Contractor with The New Jersey Division of Consumer Affairs. Learn more about us on Angie's List, Yelp, Better Business Bureau or from local references we're happy to provide.
Contact Magnolia Today