The Job: Creating a Basement Anyone Can Be Proud Of
A basement renovation can transform a previously unwelcoming space into a valuable and inviting extension of the home, adding significant value and enjoyment for homeowners. With impeccable craftsmanship and thoughtful design, this renovation took the home's functionality and aesthetic appeal to the next level by combining functional custom cabinetry, LED lighting, high-quality materials, and cohesive design.
Problem Areas: Working With Existing HVAC System
Working around the pre existing HVAC system in this basement was a challenge that required careful consideration of the ductwork, vents, and equipment placement to maximize efficiency and airflow distribution to ensure optimal climate control and comfort in the renovated space. This required our team to work strategically around the HVAC system, positioning walls, cabinetry, and furniture to allow unobstructed airflow and proper ventilation.
The Goal: An Open, Welcoming Basement Remodel
This open-concept basement renovation transformed a simple storage space into a versatile, welcoming environment that contains ample storage and shelving, an office space, and a family hangout area. Whether working, relaxing, or socializing, this open-concept basement now creates a harmonious balance between function, comfort, and style, making it a space the whole family can enjoy.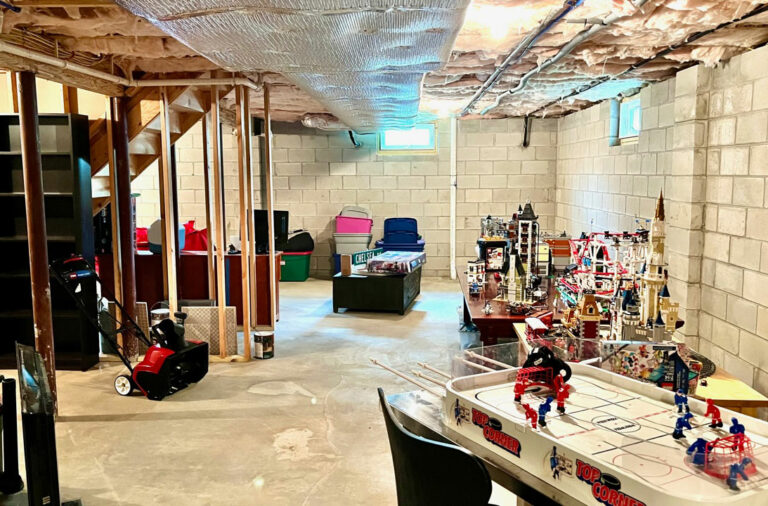 A Custom Cabinet Install With Open Shelving

The showpiece of this basement remodeling project is the brand-new custom cabinetry and open shelving created to perfectly complement the home's aesthetic. These elements were must-haves for the homeowners because they wanted not only a stylish storage solution that would free up plenty of space for family fun but also a beautiful display option for the family's LEGO collection!

Installing LVP Flooring

Luxury vinyl plank (LVP) flooring is the perfect choice for basement renovations, offering a range of benefits that make it the ideal flooring option for this specific space. LVP is designed to withstand the challenges of basements, including potential moisture and humidity issues, and its durable construction makes it highly resistant to water damage and warping. LVP flooring also offers a realistic hardwood appearance, and its installation is straightforward, with options for floating or glue-down installation, making it suitable for various subfloor conditions.

Vinyl-Wrapped Stairs for a Matching Touch

Vinyl-wrapped stairs create a cohesive flow between the different levels of the home, tying the design elements together and adding a polished finishing touch to the overall renovation. Apart from their visual appeal, vinyl-wrapped stairs also offer practical benefits since they provide a protective layer to guard against wear and tear to ensure long-lasting beauty. The vinyl surface is also easy to clean and maintain, requiring only regular wiping or light mopping to keep it looking pristine.

Basement Remodeling: Financed With Help From Magnolia!

The Magnolia Home Remodeling Group team is here to assist you in obtaining affordable financing options for your basement remodeling project. We work closely with trusted lenders to provide monthly programs tailored to your specific needs and ensure that applying for financing is a straightforward process since we handle it directly with the lender on your behalf. In most cases, credit decisions are made within minutes of applying!

Reach out to our team today to discuss your financing options by calling us at (855) 624-6655 or requesting a free estimate using this form.
Get a Complimentary Estimate
Get a Free Estimate on Your Project
To schedule a free estimate with Magnolia Home Remodeling Group please click on the free estimate button or call 855-624-6655. Estimates are always free, and we greatly appreciate the opportunity!