The Job: Create a Modern First-Floor Oasis
While these clients love their home, their existing kitchen felt closed off and isolated from the rest of their living space on the first floor, and unused office space wasn't arranged to maximize its potential. To make the most of their living spaces, a full kitchen transformation was required, including breaking down walls and installing new flooring, fixtures, and appliances.
Problem Areas: Wasted Square Footage and an Outdated Floor Plan
This kitchen's outdated floor plan was a major pain point for these clients, and as every homeowner knows, creating an open concept from an existing closed-off floor plan is anything but easy. After working closely with this family, we identified the best use of the existing space within their home and found the solutions we needed to make their vision a reality.
The Goal: Make a Closed-Off Kitchen a Show Stopping Centerpiece
With stunning light, bright modern finishes, and a completely transformed open-concept floor plan, complete with a wet bar, we delivered the first-floor living space these clients were dreaming of. Every detail, from the new island that seats five and the beautiful new backsplash to the modern light fixtures and stainless steel appliances, was tailored to meet their exact needs and fulfill their vision.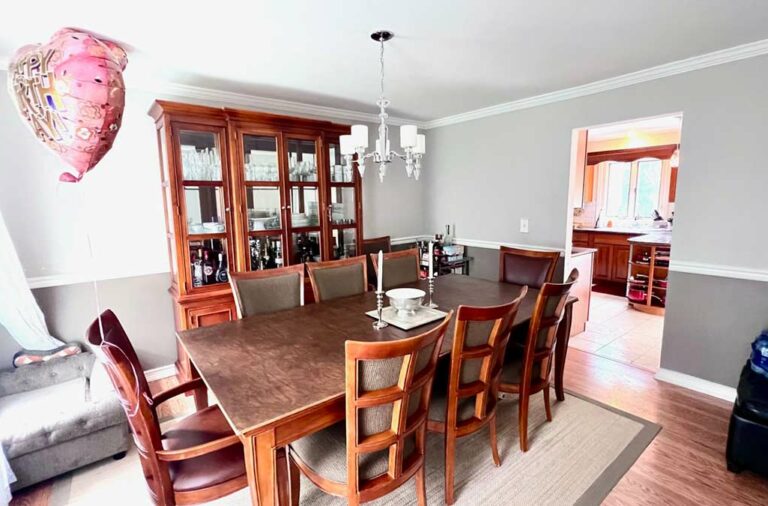 LVL Beam Installation for an Open-Concept Kitchen

Load-bearing walls can create serious challenges resulting in the need for new beams, but LVL beams, known for their exceptional strength and stability, are carefully engineered and precisely installed to ensure the structural integrity of the home. This allows for the removal of walls, expanding the kitchen's footprint and creating a seamless flow between the kitchen and adjoining areas. In this case, installing an LVL beam not only provided the necessary support but also contributed to the modern aesthetic of the open-concept kitchen, making it a more inviting and functional space.

Brand-New LED Lighting

New lighting was installed as part of this renovation to replace the existing outdated lighting fixtures with sleek and versatile LED options. LED lights offer several advantages, including longevity and a wide range of customizable options, such as adjustable brightness and color temperature. Additionally, LED lighting consumes less energy than traditional incandescent bulbs, contributing to reduced electricity costs and environmental sustainability.

Red Oak Flooring Installation

Red oak is known for its natural warmth, durability, and timeless appeal, making it a popular choice for flooring. Each plank was precisely cut, fitted, and secured with our team's careful attention to detail to create a seamless surface. The new red oak flooring brought a fresh and elegant look to this Randolph renovation, enhancing the overall aesthetics of this home's first floor and adding a touch of sophistication.

Appliances by Thermador

Thermador appliances were selected for this kitchen renovation to elevate the functionality and style of the home. Thermador is renowned for its high-quality and innovative appliances, which offer superior performance and design. Thermador appliances often come equipped with smart connectivity features, enabling remote control and monitoring through mobile devices. With their sleek design and cutting-edge functionality, these new appliances not only enhance the overall look of the kitchen but also will elevate the cooking experience for this family for years to come.

High-Quality Kohler Sink and Fixtures

Kohler is renowned for its high-quality, stylish sinks and fixtures, which are praised for their durability and performance. The new Kohler sink selected for this kitchen offered a spacious design with plenty of room for food preparation and dishwashing, and it was constructed with premium materials, ensuring durability and resistance to stains and scratches. With their sleek, modern design, the Kohler sink and fixtures seamlessly blended with the kitchen's new modern decor, creating a cohesive and sophisticated look.

Financing for NJ Kitchen Renovations

Magnolia Home Remodeling Group is dedicated to assisting you in obtaining affordable financing options for your home remodeling project. We work closely with trusted lenders to provide monthly programs tailored to your specific needs. Applying for financing is a straightforward process, and we handle it directly with the lender on your behalf. In most cases, credit decisions are made within minutes of applying! Don't hesitate to reach out to our team today to discuss your financing options by calling us at (855) 624-6655 or requesting a free estimate using this form. We look forward to helping you bring your remodeling vision to life!
Learn the Magnolia Difference
Contact Magnolia Home Remodeling for a Free Estimate & Consultation.
Meet with our contractors to go over your plans and get inspired by new design ideas from our professionals familiar with the New Jersey kitchen renovation industry.