The Job: Two Bathrooms In Dire Need of a New Life
This bathroom remodel not only revived the aesthetic appeal of these tired bathrooms but also prioritized functionality to ensure long-lasting beauty and usability for the homeowners. With meticulous attention to detail and a vision for elegance, we were able to breathe new life into these essential spaces with quality fixtures, showstopping tiling, and transformed vanities, all while working within the homeowners' parameters.
Problem Areas: Dealing With Existing Heating Installation
Our team put their experience and design expertise to the test when faced with a unique challenge during this renovation process: working around an existing in-floor heating system. Thoughtful planning allowed for the preservation of this heating installation while creating a harmonious balance between the requirements of this heating element and the sleek new bathroom design. Working around this installation required extra care and a little time, but the end result was well worth the effort.
The Goal: A Streamlined Process Producing Two Beautiful Baths
We moved efficiently through the renovation process by remodeling both the master bathroom and the hall bathroom simultaneously. This saved valuable time, allowing us to optimize scheduling, reduce the project's duration, and synchronize the selection of materials, ensuring a cohesive design aesthetic throughout both spaces. Joint planning also facilitated cost savings, as we were able to allocate resources and bulk purchase materials efficiently. Shared demolition and construction efforts even helped to minimize disruptions to the homeowners' daily lives since the inconvenience was concentrated within a shorter time frame.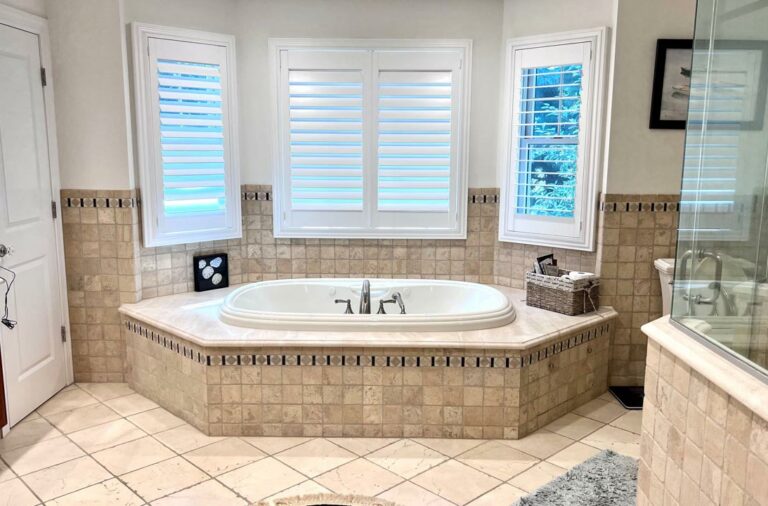 A Striking Look for a Master Bath

The master bathroom was usable in its original state, but a new bathtub, shower, and new-and-improved vanity took this homeowner's retreat to the next level. The overall layout remained largely unchanged, but much of the bathroom's square footage was being wasted pre-renovation thanks to the structure surrounding the large bathtub. A freestanding tub, modern touches, and high-end finishes make all the difference!

Making the Most of the Space in This Hall Bath

Maximizing the use of a hall bathroom's narrow space requires thoughtful design strategies that optimize functionality and create an illusion of spaciousness. With that in mind, we replaced bulky medicine cabinets with wall-mounted mirrors to create a more open feel and selected light-colored materials for the walls and flooring. Mirrors strategically placed on walls also amplified the feeling of depth and brightness, and new lighting helped to enhance the room's ambiance and visually expand the space.

Custom Vanity Installation

A bathroom vanity is not only a visual focal point of the room but also serves a variety of purposes, from storage to counter space. The master bathroom's vanity was custom-made for this room and truly maximized the available vertical space without feeling too bulky. Spacious cabinets were also key in the hall bathroom to help keep the room tidy and clutter-free, while ample counter space left plenty of room for toiletries and styling products.

Natural Stone Accent Wall

A natural stone accent wall was the perfect choice for a stunning focal point in this NJ bathroom remodel project. The varied textures and shades in the natural stone bring a touch of sophistication and depth to the room, and this striking feature adds a sense of luxury while creating a complementary contrast with other key design elements.

New Fixtures: From Tub to Faucets

The combination of modern faucets and new bathtubs transformed these bathrooms into sanctuaries that offer both relaxation and style to the homeowners and their guests. New faucets offer improved water efficiency and modern features, and new bathtubs can provide enhanced comfort and better durability. With this in mind, a Barclay Soaking Tub was chosen for the master bath, while a sleek tub and shower combination made the most of the hall bath's limited square footage.

Accent Tile for a Kid's Bath

Accent tile served as a key focal point for the hall bathroom's renovation by creating an impressive visual impact in a narrow space. The use of contrasting colors, textures, or patterns can visually expand a smaller space, making it appear larger and more visually interesting. Using a striking accent tile in this remodel broke up the monotony of the room's neutral color scheme and added a dynamic design element to give it depth and dimension.

Make Bathroom Financing Easy With Affordable Plans

Here at Magnolia Home Remodeling Group, our team is here to assist you in obtaining affordable financing options for your home remodeling project. We work closely with trusted lenders to provide monthly programs tailored to your specific needs and make applying for financing a straightforward process since we handle it directly with the lender on your behalf.

Feel free to reach out to our team today to discuss your financing options by calling us at (855) 624-6655 or requesting a free estimate using this form!
Get a Complimentary Estimate
Get a Free Estimate on Your Project
To schedule a free estimate with Magnolia Home Remodeling Group please click on the free estimate button or call 855-624-6655. Estimates are always free, and we greatly appreciate the opportunity!