Problem Areas
The drafty windows and doors were very old and created an uncomfortable atmosphere in the winter when letting in air from the outside.
The limited space did not allow much room for a shower, but the homeowners wanted to make it work.
The flooring needed to be pulled out and completely replaced with new tile that is durable, easy to clean, and beautiful.
A total rehaul was necessary for the lower-level bathroom.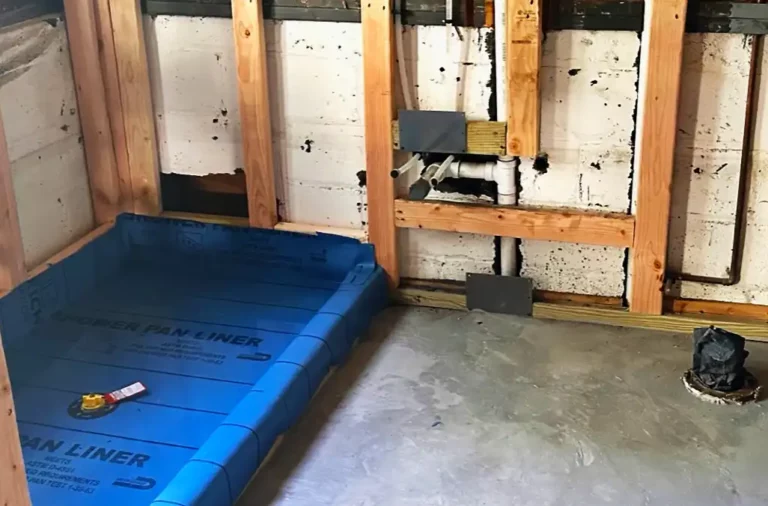 Magnolia Home Remodeling to the Rescue
The Renovations

Magnolia Home Remodeling Group to the rescue. In order to make the bathroom fit in with the rest of the basement, we worked closely with the client on enhancing the small space we had to work with. This Morris County bathroom remodel was a total transformation worth the 6-week wait.

New Windows and Doors

The old drafty windows were replaced with Anderson Windows. The windows not only add beauty and sparkle to the space but also add efficiency. For example, when heating a cold basement, the last thing you want is your heat to flow right out a gapped window.

The door to the bathroom was also replaced with an updated design. The first impression you see is the door to the bathroom, and the replacement leaves you knowing you're going to walk into an innovative, modern design.

Premium Plumbing Fixtures

The fixtures were replaced with Kohler premium shower and bathroom fixtures. In the shower, we used a matte black rainhead showerhead. The matte black design was a theme throughout this lower-level New Jersey bathroom renovation.

We also installed a matte black hand shower sprayer for convenience in the tiny shower space. The matte black Kohler lavatory faucet was perfect for the sink area. New fixtures give you the opportunity to show your style in a Morris County bathroom remodel. The white toilet next to the matte black toilet paper holder creates a nice contrast.

New Shower Tiles

The porcelain tiles filled the shower space to make it feel new and refreshing. On the shower floor, you can find hexagon-shaped

tiles that are small and modern. Using small tiles in the shower design creates flexibility– in such a small space, using many small tiles provides the opportunity to create more designs. Think of ways to highlight your design aesthetic in your New Jersey bathroom renovation.

Vanity Cabinet

The Caxton Rectangle under-cabinet vanity in white continued with the black and white design we established with the Kohler brand fixtures. The white cabinets brighten the bathroom. Providing storage options in a small bathroom gives the homeowners places to keep extra toilet paper, soap, and toiletry supplies.

Flooring

Dakota 8x32 Avana tiles lined the floors. The wood-like tile planks create the aesthetic of wood floors without the risk of warping. In addition, lower levels and bathrooms are susceptible to standing water, so wood-like tile is a perfect selection of materials. With the installation of the new flooring, this Morris County bathroom remodel is now complete.

The bathroom renovation just needs accessories to style the space. Add a candle, succulent plant, colorful towels, and a lush bath mat. Imagine what you can do in your New Jersey bathroom renovation– combine function and fashion to create a space just as beautiful as this Whippany bathroom remodel.

Financing Options For Bathroom Renovations

When hiring Magnolia Home Remodeling Group you can have peace of mind that all remodeling is performed to exceed your expectations. Additionally, we offer affordable payment plans for all qualified buyers with our 100% Home Improvement Financing for all remodeling projects. Please call us anytime at 855-624-6655 or contact us by filling out the request for an estimate, and we will schedule a free estimate, explaining all the product options and prices available. We appreciate you considering our company to remodel your home!

Visit our bathroom gallery for more pictures of projects we've completed!

Contact a Trusted Contractor: Magnolia Home Remodeling Group

Magnolia Home Remodeling Group is familiar with home designs in New Jersey and is always up-to-date on what is on trend. So when you choose a reputable company like ours, you can count on impeccable work at competitive prices.

Our team will show up on time and clean up each day to keep your home liveable while the project is ongoing. Each Morris County bathroom remodel is done with safety in mind, ensuring that you never have to worry about a leaky faucet or a faulty plumbing issue.

Learn about how Magnolia Home Remodeling Group can take care of your New Jersey bathroom renovation. Stop putting off your dream bathroom remodel. Our team can provide ideas and help you design a retreat inside your very own home. Contact Magnolia Home Remodeling Group to get started.
Learn the Magnolia Difference
Contact Magnolia Home Remodeling for a Free Estimate & Consultation.
Meet with our contractors to go over your plans and get inspired by new design ideas from our professionals familiar with the New Jersey kitchen renovation industry.