The Job: Building a Brand-New Porch To Complete the Perfect Backyard
A new pool had already been added to the home's outdoor living space, but the current patio setup lacked shelter from the elements. A covered porch was the perfect finishing touch to complete this outdoor oasis, and it had to fit in seamlessly with the beautiful new pool while feeling like a cohesive extension of the home itself.
Problem Areas: Working Around a Brand New Pool
To complement their recently constructed pool, the homeowners decided to add a stylish roofed porch to their outdoor space. By integrating a roof into the existing pool area's design, the homeowners can now enjoy poolside activities without being concerned about the weather. This addition has created not only a comfortable and shaded area for relaxation but also a striking visual complement to the pool's aesthetic.
The Goal: Debuting a Haven From the Elements, Just in Time for Summer!
The introduction of a roofed porch created a cohesive and inviting atmosphere, further enhancing the home's pool area and allowing for extended outdoor enjoyment throughout the seasons without worrying about excessive sun exposure or unexpected weather changes. While this new feature means that the home's outdoor space can be used more often year-round, it is especially valuable during the hot summer months when the pool is frequently enjoyed.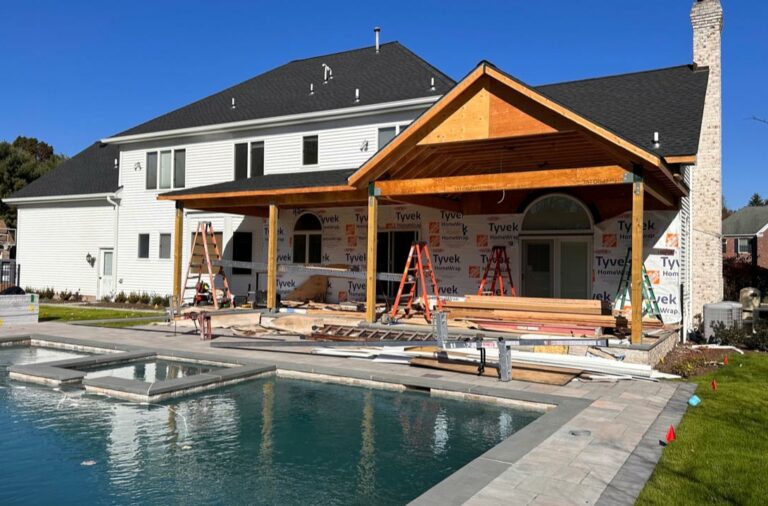 Azek Trim and Composite Posts

Azek trim and composite posts were key elements of this project that elevated this porch's visual appeal and increased its longevity. Azek trim is renowned for its exceptional durability and resistance to moisture, and with its wide array of color options and versatile design capabilities, it added sophistication and architectural detail to the porch. Composite posts complement the trim and provide strength and stability, ensuring a sturdy foundation for the structure. These posts are composed of a blend of materials for superior strength and offer an attractive alternative to traditional wood posts.

Vinyl Porch Ceiling

Durability and low-maintenance requirements were key considerations for this project, so vinyl was the ideal material for the porch ceiling. Vinyl is known for its resistance to moisture, warping, and rot, making it an excellent choice for outdoor settings. By installing vinyl, the homeowners are able to enjoy the benefits of a visually appealing and long-lasting ceiling that requires minimal upkeep and can be effortlessly cleaned.

GAF HD Roof Shingles

GAF's HD roof shingles offer a winning combination of strength and style, which made them an ideal choice for this roofing project. These shingles feature advanced technology that provides superior protection against the elements, including wind, rain, and UV rays, and add depth and texture to the roof for additional visual interest. GAF's wide selection of color options allowed the homeowners to find the perfect shade to complement their home's exterior, and by opting for GAF HD roof shingles, we achieved a durable roof that enhanced both the protection and aesthetic appeal of this home.

LED Lighting

LED lighting fixtures offer many benefits, including long-lasting performance, reduced energy consumption, and enhanced design flexibility. With their extended lifespan, LED lights require minimal maintenance and replacement, resulting in excellent cost savings and making them the perfect choice for this project. LED technology also allows for precise control of lighting levels so homeowners can create various moods and ambiance in their outdoor space as needed.

A Job So Well Done, We Were Hired Again!

Impressed by the outstanding results of this project, the homeowners decided to hire our team again, this time to revamp the front of their home. This extended relationship is a testament to the successful collaboration and unwavering trust between the homeowners and our team. We were thrilled to work together a second time to ensure an extraordinary final result that leaves a lasting impression.

Financing for NJ Covered Porches

Here at Magnolia Home Remodeling Group, we offer a range of affordable financing options through our trusted network of lenders tailored to your specific needs. We know financing plays a crucial role in making your remodeling dreams a reality, which is why we help facilitate a seamless application process.

Explore your financing options and kick-start your remodeling project by reaching out to our team today. You can contact us at (855) 624-6655 or request a free estimate via our website!
Get a Complimentary Estimate
Get a Free Estimate on Your Project
To schedule a free estimate with Magnolia Home Remodeling Group please click on the free estimate button or call 855-624-6655. Estimates are always free, and we greatly appreciate the opportunity!