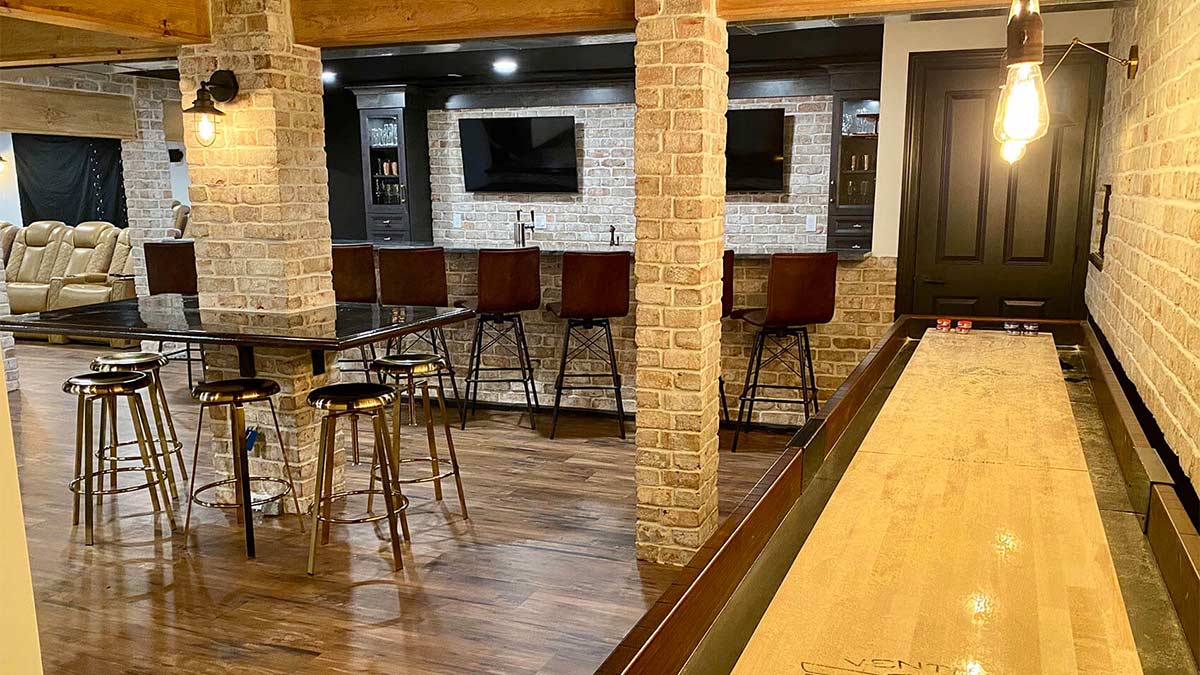 If your basement isn't finished, it's likely serving as a storage area or DIY home gym, or just not being used to its full potential. While a significant home improvement undertaking like renovating your basement may feel overwhelming, the basement of your dreams is within reach when you hire the right contractor.
1. Streamline the Renovation Process
It's easy to underestimate the basement finishing process before you dive in, but as with any DIY renovation project, you'll likely run into issues and delays since your time is typically limited by work, family life, and other obligations. A professional contractor brings several benefits to the table that will expedite your project, including dedicated work crews to get the job done, the project management skills and experience to keep everything running on time and preventing delays, and a clear timeline for your project. With a cohesive schedule and proper planning, a professional basement contractor will be able to keep your project on track and your vision in mind without you having to sacrifice anything.
2. Leave the Basement Planning and Design to Professionals
A basement remodel is a complex undertaking involving factors like the electrical work, the delivery of materials, framing, and ensuring your home's structural integrity. Mistakes made through DIY attempts can lead to additional problems, while hiring a contractor guarantees top-quality work, since these experts know exactly which designs will be best suited to your home. Contractors also often have access to superior materials and can offer valuable recommendations that may not be readily available to homeowners, allowing you to find the perfect options to complement your home's style.
3. Gain Value With the Help of an Industry Expert
Cost is a crucial consideration in any project, and while DIY may seem cheaper, unforeseen expenses can arise that increase costs. Contractors have extensive experience and can accurately assess your project requirements and potential expenses early on. They also have established connections with material suppliers, enabling them to make cost-effective bulk purchases. Plus, if you're missing any of the necessary tools for the job, you'll need to spend extra time and money sourcing equipment, while contractors come equipped with everything needed. Mistakes in DIY projects can also escalate costs due to wasted time and materials, potentially requiring professional intervention to complete the project. Many reputable contractors will even offer financing options that allow for manageable monthly payments instead of upfront costs for materials, tools, and other project necessities.
4. A Wealth of Experience and Knowledge to Benefit Your Project
Though some DIYers may be experienced in smaller projects, a qualified contractor will have a wealth of knowledge and experience that is hard to match, as well as dozens, if not hundreds, of reviews from satisfied homeowners. This could impact your project's timeline; however, this also means that a contractor may have some great ideas for how to handle your space as well, including how to organize your basement's floor plan, storage solutions, and the best plumbing and electrical solutions for your unique space.
An experienced contractor can also help you find the perfect entertainment options for your new basement oasis, like wet bars and audio/visual options, as well as the best options for lights and lighting systems. Finally, while you may have a general idea of what you want your finished basement to look like, a professional will know how to translate that goal into reality by taking your vision and matching it with the right materials, floor plan, and finishing touches.
5. Solving Challenges as (and Even Before) They Arise
Each basement is unique, and there is no one-size-fits-all solution to finishing this valuable space within your home. A skilled contractor can detect potential issues early on that may go unnoticed otherwise and address these concerns during planning, which leads to a successful project and a beautiful basement space that you'll be able to enjoy for years to come. This early intervention ensures easy maintenance of the space and maximizes its contribution to the overall property value of your home.
Challenges that could threaten your renovation project include water-related issues in flood-prone areas of New Jersey. Neglecting water-related issues can have disastrous consequences, and hiring a contractor who understands these risks is crucial to mitigate or eliminate them. They can ensure that measures like waterproofing, sump pumps, and proper drainage precautions are in place to avoid future headaches or significant expenses. Finishing your basement without considering these factors can lead to costly repairs and potential damage to stored items, including furniture, equipment, and valuable items like family photos or important documents.
Mold is another common problem in New Jersey basements because the underground level of your home tends to be the most humid. Detecting mold can be challenging, as it often grows unseen and may not be detected by smell. However, contractors have the expertise to prevent mold growth by addressing factors like air circulation and recommending methods to dehumidify basements. Mold can even significantly impact the sale of a home, potentially lowering its value and necessitating the involvement of specialists to clean or remodel particularly harmful mold growths during the inspection process.
Contact Our Team Today to Start Your Basement Remodel
If you're considering a complete basement remodeling project or want to learn more about how your existing basement could be transformed, the team here at Magnolia Home Remodeling is available to answer any questions you may have. We have extensive experience with basement remodeling projects, but don't just take it from us! Read reviews from past clients to learn more about what we bring to the table, or reach out to us today to get started.
To get started with Magnolia Home Remodeling, simply fill out our simple free estimate form, and a member of our expert basement contractor team will contact you to set up an appointment for a consultation. We also offer various basement remodeling financing options that can help you get the basement of your dreams at affordable monthly rates.