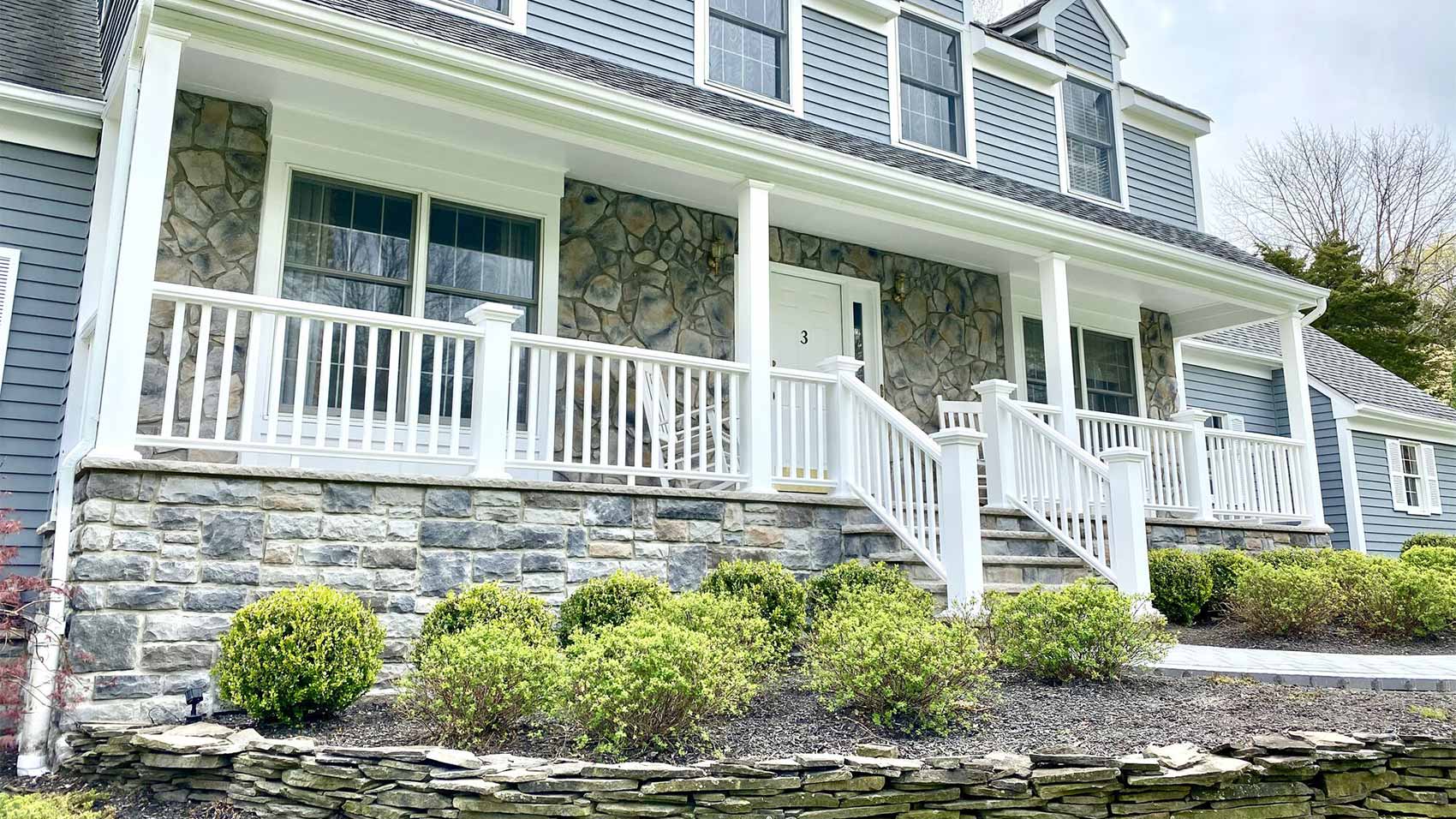 In a state where space is at a premium and communities thrive on connection, front porches often serve as not only a focal point for your home's curb appeal but also a gathering place for your family and neighbors. New Jersey's diverse seasons, ranging from frosty winters to scorching summers, also add to the appeal of a well-designed front porch, making it a space where you can enjoy the outdoors regardless of the weather.
In this article, we'll list some great front porch remodeling ideas to take your front porch to the next level with an inviting transformation that will make it a place to enjoy any weather that New Jersey has to offer.
What Are the Main Benefits of Remodeling Your Front Porch in New Jersey?
A front porch renovation is a strategic investment in aesthetics and practicality because a thoughtfully designed and modernized front porch maximizes your home's curb appeal and usable outdoor space. While there are a few economical ways you can update your home's appeal, there is no substitute for a beautiful, well-maintained front porch. A welcoming porch is also crucial when selling your home, as it significantly influences the first impression on potential buyers. It can even elevate your home's value by attracting buyers seeking appealing and practical outdoor spaces. Through strategic remodeling, you can not only lower your long-term maintenance costs, especially with materials like composite decking, but also make your porch safer and more accessible for all residents and visitors.
7 Front Porch Remodeling Ideas
1. Composite Decking Materials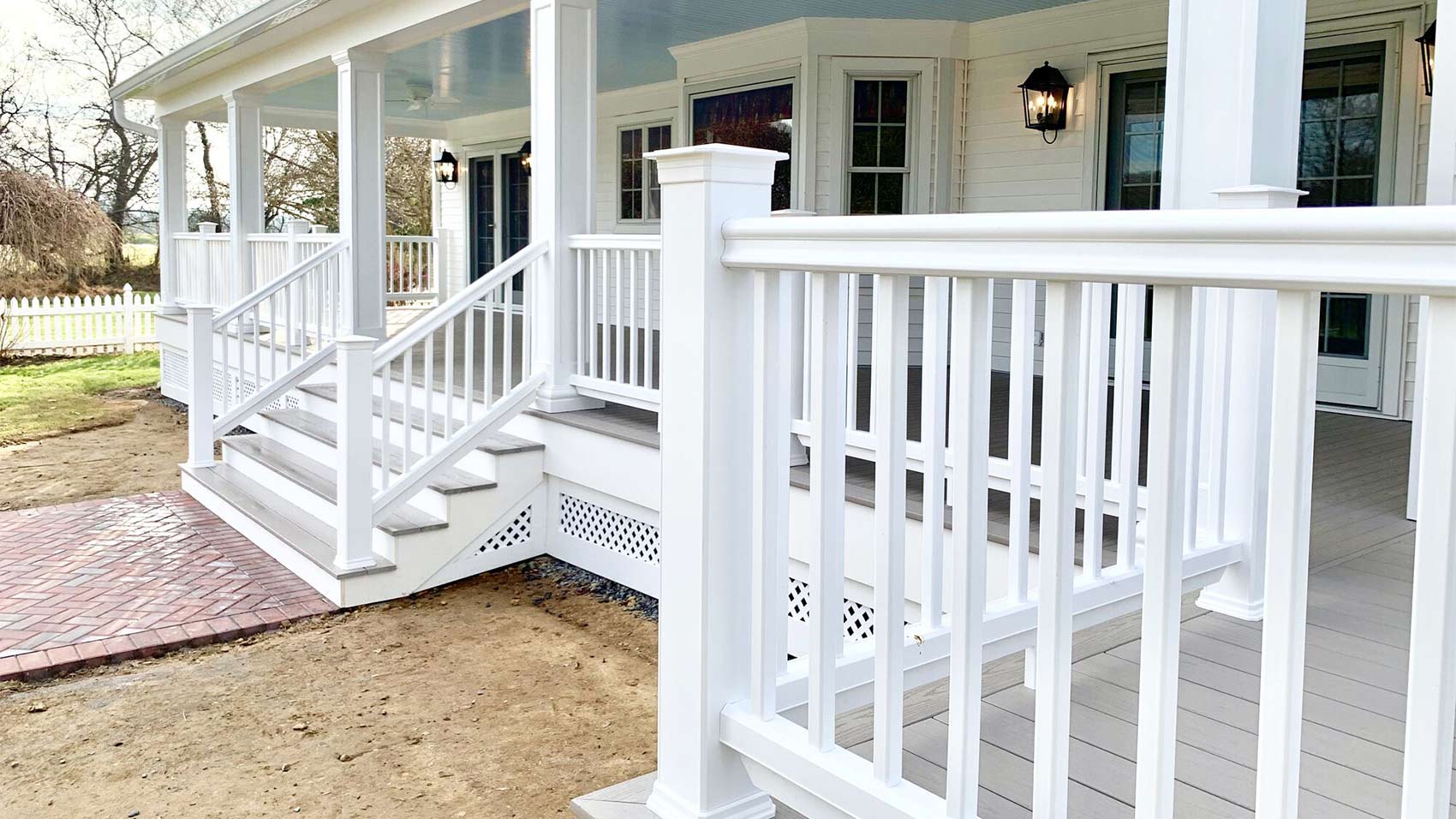 Composite decking offers many advantages over traditional wooden porches due to the impressive advancements made in this material. Resistant to rot, mold, insects, and deterioration, it braves New Jersey's sometimes harsh weather without splintering, warping, or cracking. Maintenance is minimal, with no need for staining, sealing, or painting. Only simple cleaning with regular soap and water is required. With a lifespan of over 25 years, high-quality composite decking promises enduring value. Its diverse range of colors, textures, and styles—including imitating wood for a natural aesthetic—allows for complete customization to match your home's design. Some variants of composite decking are composed of recycled wood fibers and plastic, making them an eco-friendly, sustainable alternative to new wood. TimberTech/AZEK, Trex, and Fiberon are just a few composite and PVC decking brands producing both gapped and grooved profiles.
2. Walkways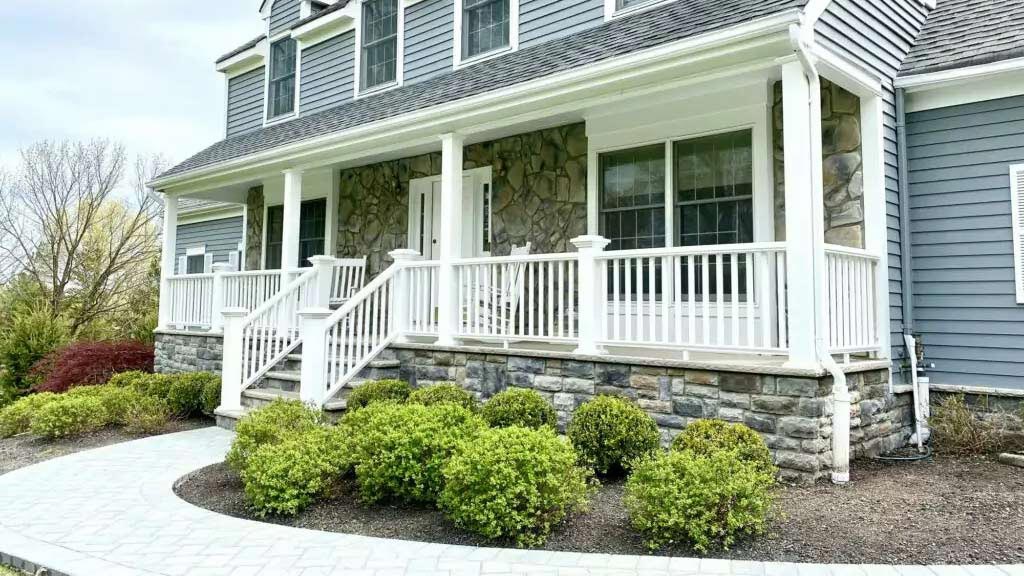 Walkways amplify your home's entrance by providing an inviting pathway that elevates charm and curb appeal. Beyond aesthetics, a walkway clarifies entryway access, enhances safety and accessibility for your guests by guiding them away from potential hazards, and safeguards your landscaping from foot traffic damage. Moreover, it functions seamlessly in various weather conditions, facilitating year-round use of your front entrance.
For those with more complex outdoor spaces, a walkway doubles as a connecting thread, unifying gardens, patios, and sitting areas. A well-designed walkway can also fulfill accessibility requirements and accommodate individuals with additional mobility considerations. Plus, the sky's the limit for beautiful, functional, low-maintenance pathways thanks to high-quality masonry and paving brands like Techno-Bloc, Cultured Stone, and Cambridge, whose innovative products will allow you to wow your visitors and neighbors.
3. Outdoor Lighting & Season Extension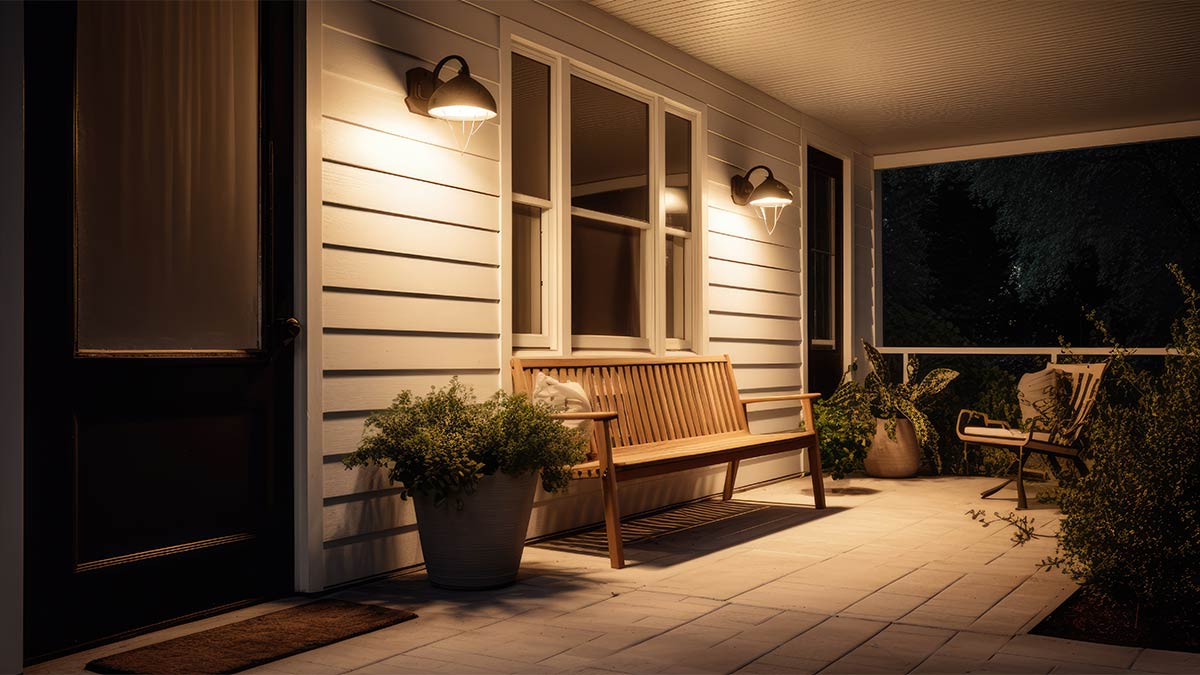 Nicknamed "The Garden State," New Jersey's natural beauty encourages outdoor living during all seasons and times of the day. Innovations in outdoor lighting, particularly LED options, facilitate greater enjoyment of exterior spaces while conserving energy and minimizing maintenance. You can choose from various styles, including classic wall sconces, elegant hanging pendant lights, flush-mount ceiling lights (a seamless addition to covered porches), and solar-powered lights that illuminate pathways and gardens while guiding visitors. You can even embrace smart lighting systems that allow you to use your phone or tablet to adjust the brightness and color of your LED lights for any occasion. . Can't decide which style you prefer? Blend lighting styles like sconces, pendant lights, and string lights to create a layered and distinctive aesthetic for your porch!
Transforming your front porch into a year-round haven is achievable with a few seasonal enhancements. Screened-in porches offer respite from insects and inclement weather while maintaining a connection with the outdoors, and adaptable outdoor curtains or retractable shades provide shade, privacy, and wind protection. To foster a cozy atmosphere on chilly evenings during the cooler months, add strategically placed patio heaters or a charming outdoor fireplace, fire pit, or fire table. Outdoor rugs complete the ensemble and inject style while offering insulation against cold surfaces, rendering your porch inviting and comfortable regardless of the season.
4. Window and Door Upgrades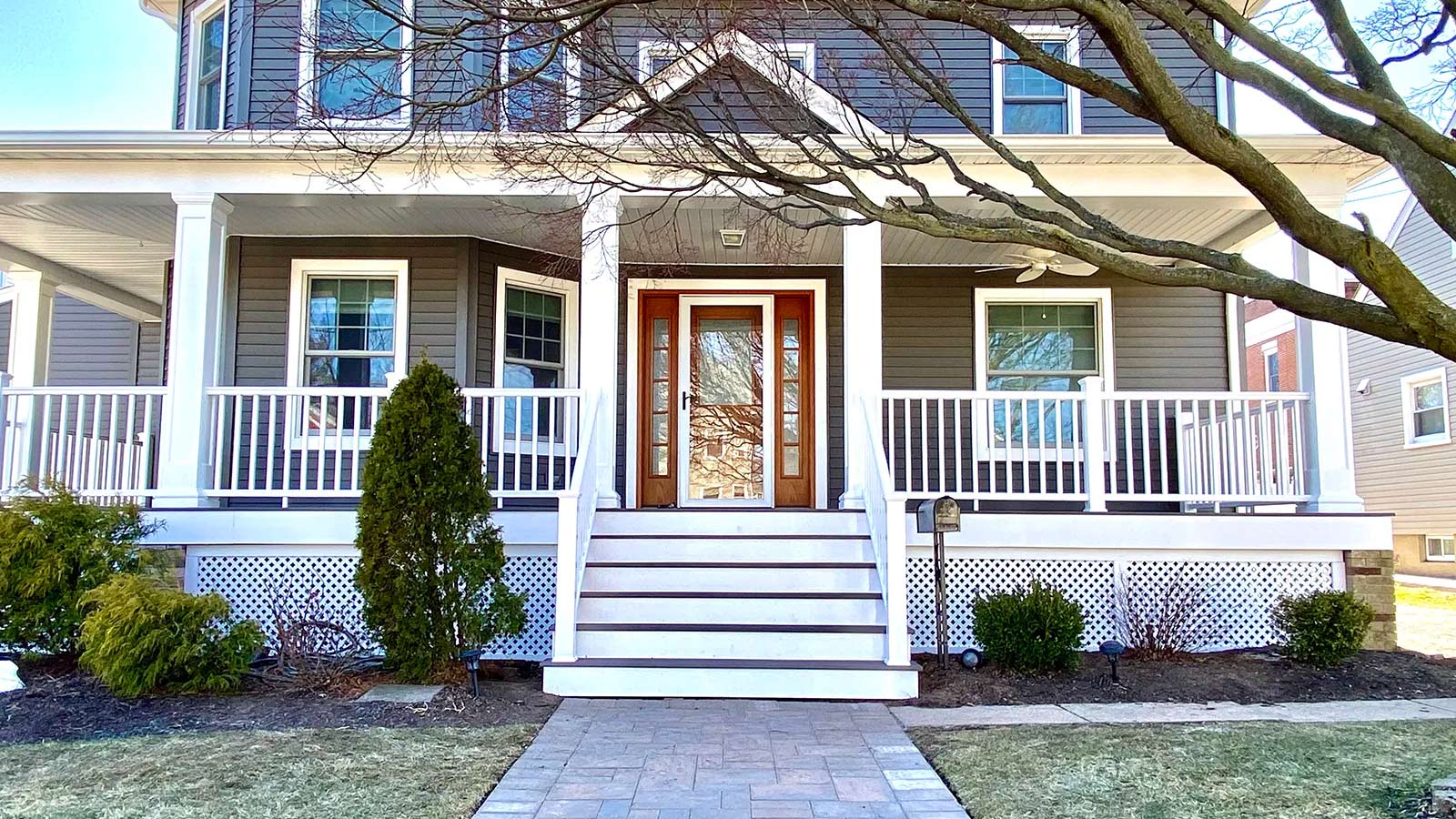 If you're remodeling your porch, it's also a perfect time to upgrade your windows and doors! Your front porch remodel can be a great opportunity to "bundle" together different improvements to accentuate your home's curb appeal.
New doors bring many benefits, including enhanced security with features like reinforced frames and multiple locking points and improved insulation, reducing drafts and heat loss for energy savings and interior comfort. Modern doors made of materials like fiberglass and steel are lower maintenance, more durable, and better for soundproofing than their outdated counterparts, allowing you to maintain a peaceful indoor ambiance. Additionally, their durability ensures that they are capable of withstanding the elements far better than older doors.
Much like doors, energy-efficient windows improve insulation, curb heat transfer and cut heating and cooling expenses, which are especially important these days thanks to rising energy costs. Double or triple-pane windows have soundproofing qualities, diminish exterior noise, and likely sport UV-resistant coatings that shield furniture, flooring, and decor from sun-induced fading. Refined designs and larger sizes augment natural light, infusing a bright and inviting ambiance. High-quality windows from brands like Marvin, Pella, Andersen, and Alside not only amplify resale value by catering to energy-conscious buyers but also elevate a home's aesthetics and market desirability, both inside and out.
5. Enhancement & Extension of Spaces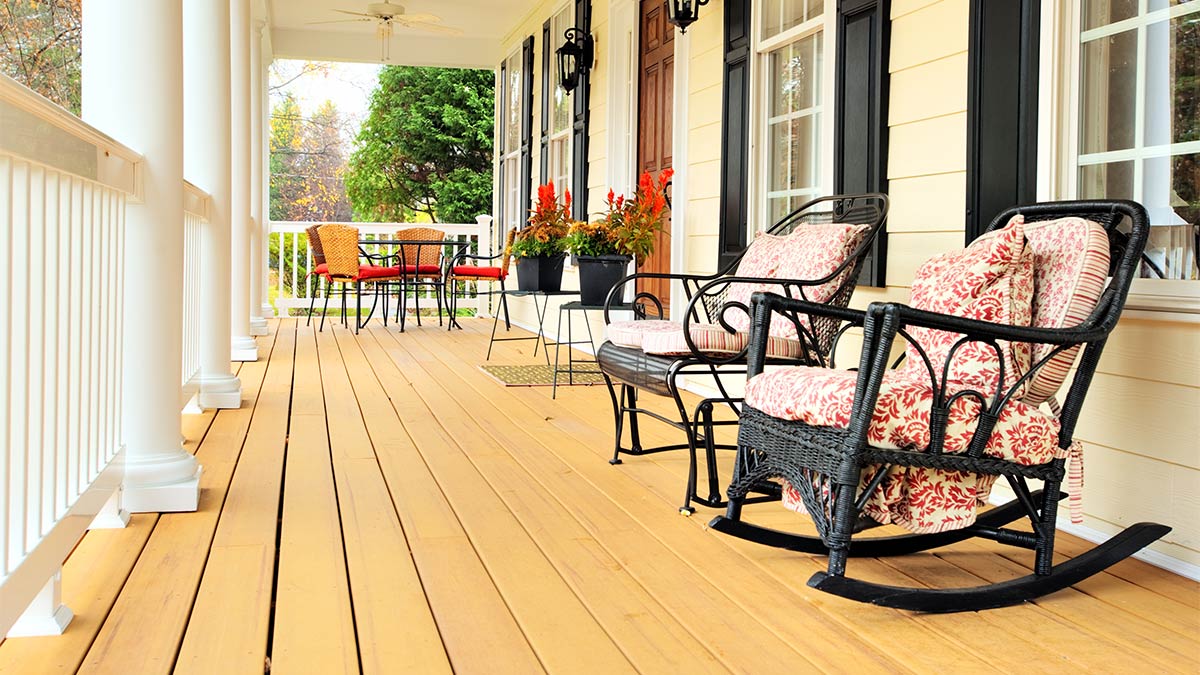 A front porch extends indoor living to the outdoors, offering a versatile space for relaxation, socializing, and work by expanding usable areas beyond interior rooms. It is an entertaining gathering hub, enhanced by amenities like outdoor screens and speakers that create an additional living room with fresh air. An inviting front porch can also foster a sense of community within your neighborhood by serving as a comfortable, welcoming gathering space for all!
A dedicated dining area provides a unique outdoor setting for meals, while covered porches act as transitional spaces and preserve indoor cleanliness. Well-designed porches accommodate children and pets, allowing for supervised play and offering controlled outdoor access so every family member can enjoy spending time outdoors safely. For families, elevated porches provide secure play zones, featuring robust railings, gates, and storage for toys that encourage outdoor activities with easy cleanup.
Begin Your Front Porch Remodeling Project Today
Magnolia Home Remodeling Group is here to help with everything you need for your New Jersey front porch renovation project! Contact us at your convenience to schedule a no-obligation consultation for your home improvement projects, or call (855) 624-6655.
We would be more than happy to answer your questions, help you secure any financing you may require, and help you choose the ideal features for your home renovations. Read reviews from past clients to learn more about what we bring to the table, and rest assured that our professional team can deliver the front porch of your dreams.