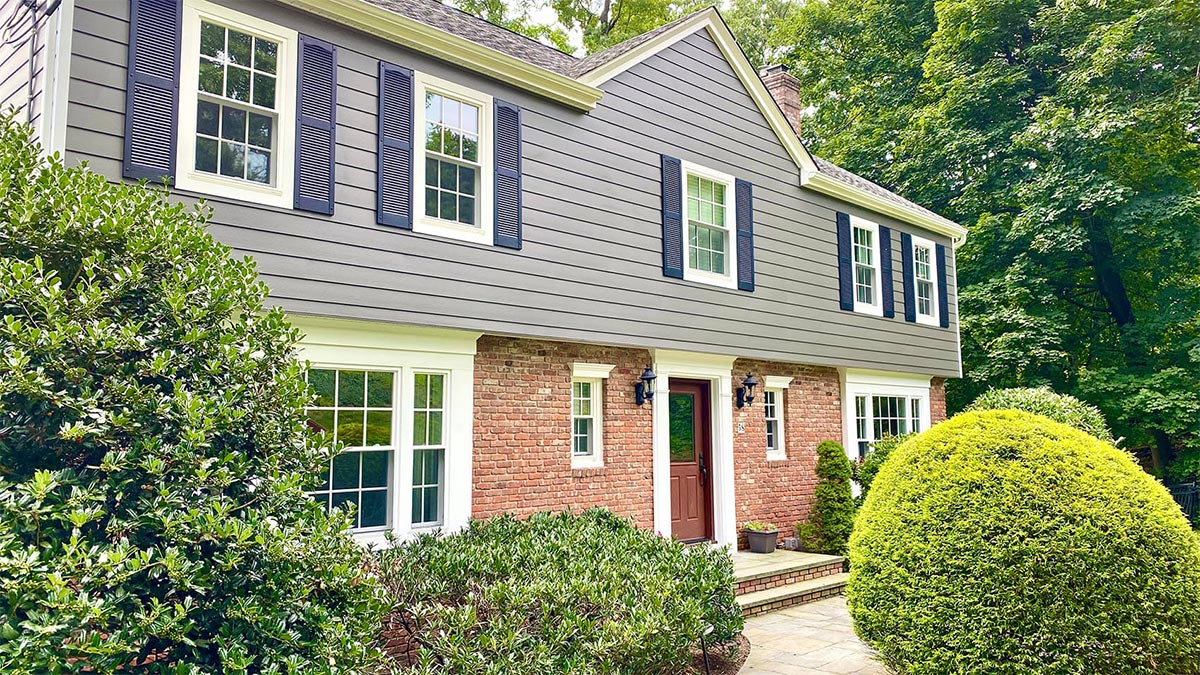 An installation of Pella windows in Morristown, Morris County, NJ
Investing in new windows for your home is a significant step toward improving its overall value and energy efficiency. Making an informed decision is vital before committing to replacement windows—especially with windows on the market today that can last up to 20 years or more without needing replacement. It's crucial to make the right choice. However, many homeowners lack expertise in this area and may find it challenging to know where to begin.
By familiarizing yourself with your options and comparing reputable brands like Marvin vs. Andersen windows and Pella vs. Andersen windows (the subject of this article!), you can gain valuable insights into where to invest your money and find the perfect fit for your home.
To help you get started, we offer a homeowner's guide to selecting the ideal window manufacturer for your specific needs. This guide will equip you with essential information about two of the top brands in the world of windows to make a confident and well-informed choice when it comes to window replacement projects for your home.
Key Factors to Consider When Making a Decision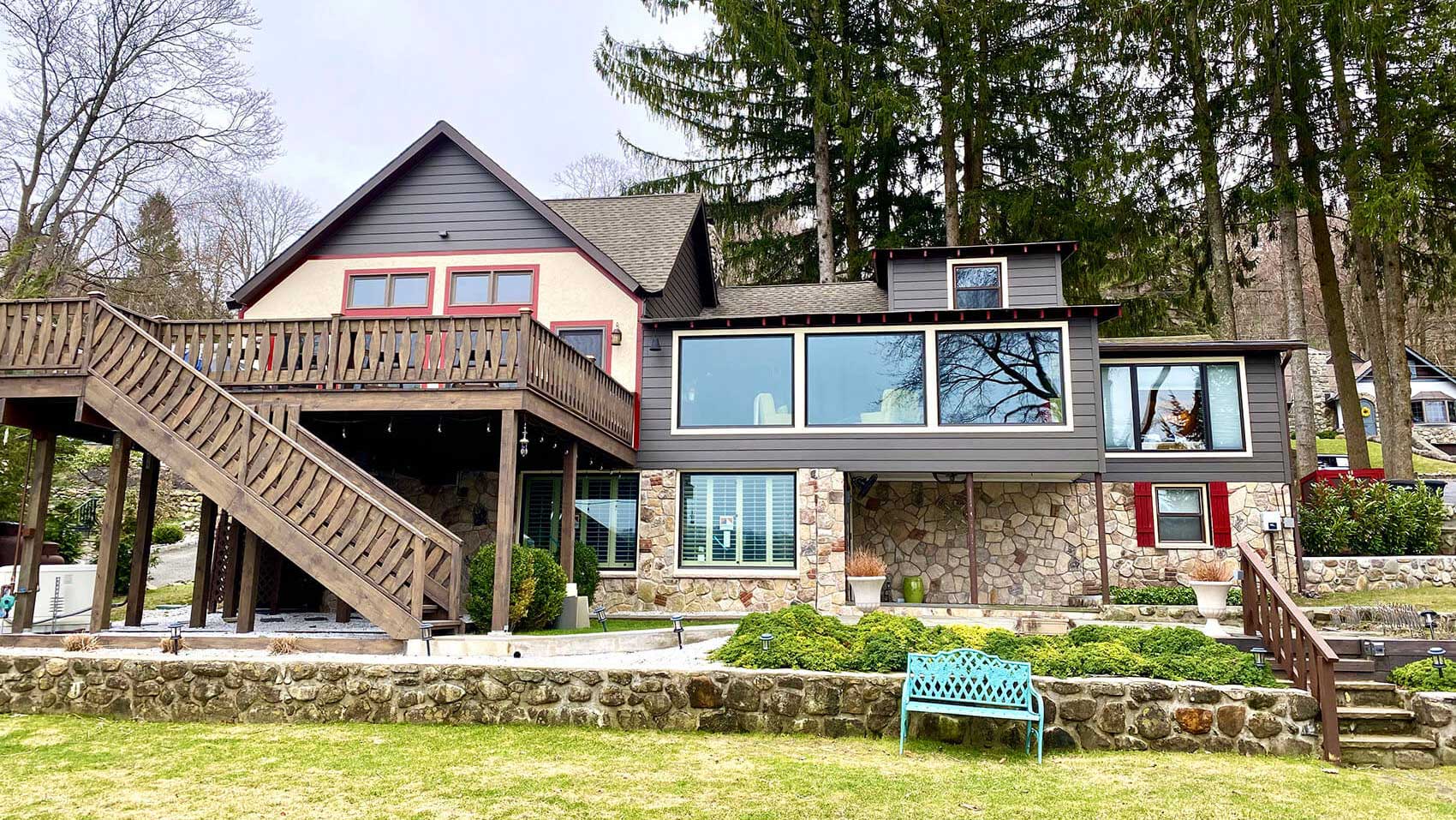 Andersen windows installed at a home in Sparta, Sussex County, NJ
When considering which window replacement options are right for you, several key factors come into play.
First and foremost, your budget considerations will play a significant role in determining the scope of your choices. While there are commonly financing options from many reputable installers available to help mitigate upfront costs, finding the right window to fit your needs while delivering the best results is normally a major factor in making a decision. At the same time, climate and energy efficiency are a few other crucial factors to keep in mind for optimized comfort and minimized utility costs, which can save you money in the long term.
Your home's style and aesthetic will also ensure that the new windows blend seamlessly with the overall design. Picking a window that not only matches your home but also improves its look can be a factor in its curb appeal when it comes to selling your home.
Considering the maintenance requirements of different window materials will also help you choose a low-maintenance option that suits your lifestyle and maximizes the windows' look for years to come.
Finally, keeping the longevity and durability of the windows in mind ensures a long-lasting investment that adds value to your home. By carefully evaluating these factors, you can confidently select the ideal window replacement options tailored to your specific needs and preferences.
Key Differences Between Pella and Andersen Windows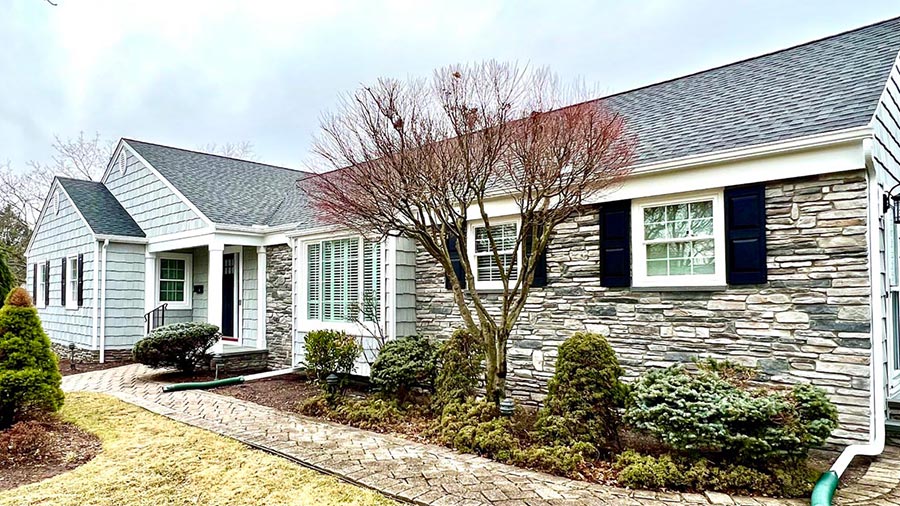 Pella 250-Series windows installed in Westfield, Union County, NJ
Pella and Andersen are top window manufacturers that have been in business since the early 1900s and have built a name for themselves over the past century by crafting quality windows. While the two brands have many similarities, Pella offers innovative and high-quality products at competitive prices, while Andersen offers a variety of price points so you will always find a window that fits your lifestyle, including Andersen 100 Series, 200 Series, 400 Series, A-Series, and E-Series. Let's take a look and compare the brands to decide which option would be a better fit for you.
Window Materials
Pella windows come in a range of materials, including wood, vinyl, and fiberglass. Their wood windows, in particular, stand out for their timeless and sophisticated appearance, adding a touch of elegance to any home. Andersen has also built a reputation around their exceptional wood windows and is known for their exquisite beauty and natural warmth. Andersen offers windows made of vinyl and composite materials as well, providing customers with versatile alternatives.
Window Styles and Designs
Both Pella and Andersen offer an impressive array of window styles and designs, ensuring that homeowners will find the perfect match for their preferences and their homes' architecture. Pella boasts a diverse selection that includes double-hung, casement, awning, sliding, and even customizable options that allow homeowners to tailor their windows to suit their unique vision. Andersen's collection also encompasses many styles, including double-hung, casement, awning, picture, bay, and bow windows. Andersen's unique architectural collections cater to specific design aesthetics, giving customers even more specialized choices to enhance their homes' appearance.
Energy Efficiency
Pella and Andersen are both dedicated to providing energy-efficient windows that contribute to reduced heating and cooling costs for homeowners. Pella has incorporated cutting-edge glass technologies and insulation options into their windows and doors to optimize their thermal performance, while Andersen offers windows equipped with low-E glass and other energy-saving features that enhance insulation and minimize energy consumption. With both companies prioritizing eco-friendly solutions, homeowners can confidently choose windows from either brand, knowing they will contribute to more energy-efficient and environmentally conscious homes.
Warranty and Customer Support
Both brands demonstrate commitment to customer service and satisfaction through their comprehensive warranties and customer support offerings. Pella typically provides a limited lifetime warranty, ensuring homeowners receive coverage for parts and materials over an extended period, and offers reliable customer support to promptly address any concerns. Andersen takes a similar approach by offering a limited lifetime warranty on many of their windows, highlighting their confidence in the durability and performance of their products. The excellent warranties and dedicated customer support from both companies provide homeowners with peace of mind.
Price Range
When it comes to price range, Pella and Andersen cater to different segments of the market. Pella windows are generally seen as a more budget-friendly option, particularly in the mid-range market, and offer homeowners an affordable choice without compromising quality. Andersen is typically more expensive since the company is renowned for its top-notch craftsmanship and superior quality, making them a premium option for those seeking the utmost durability and design excellence.
That said, both Andersen and Pella have a wide range of styles and lines that can competitively match different window replacement projects' budgets.
Options for Window Replacement From Magnolia Home Remodeling Group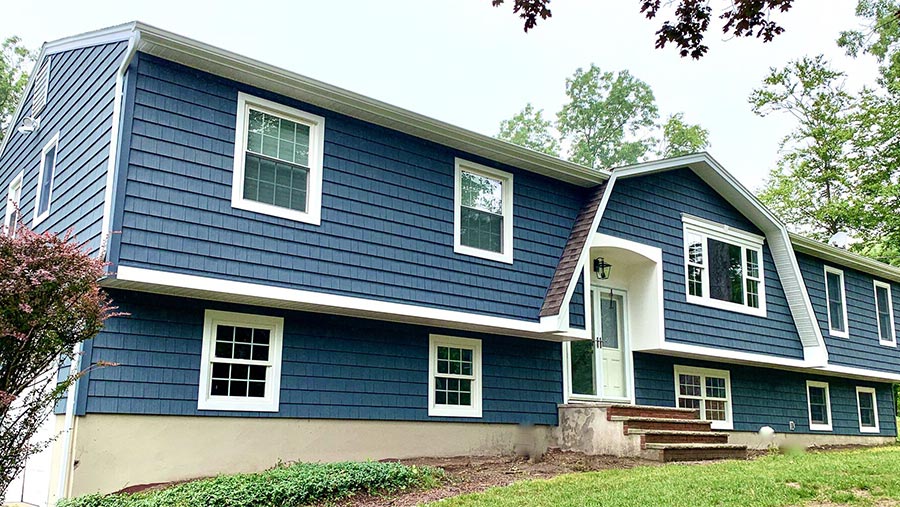 An installation of Andersen windows in Montville, Morris County, NJ
While both Pella and Andersen provide competitive products, the choice comes down to your project requirements. If you are a more budget-conscious homeowner, Pella may be the right choice for you with its more affordable price point. If price is less of a factor, and you are looking for the best quality and performance of your windows, Andersen may be the obvious choice for your home.
When ultimately choosing which window option is the best fit for your home, research is key, since the best brand for you depends on your home's unique requirements and aesthetic.
No matter your choice, Magnolia Home Remodeling Group is licensed to install both Andersen and Pella windows, properly fitting them into your home so they'll last for years with minimal maintenance requirements. Reach out to our team to get in touch or request a free estimate via this form. We proudly serve North and Central New Jersey and provide over 30 years of industry experience. We can also help you facilitate affordable home remodeling financing with flexible programs tailored to suit your needs, including options for monthly payment plans.