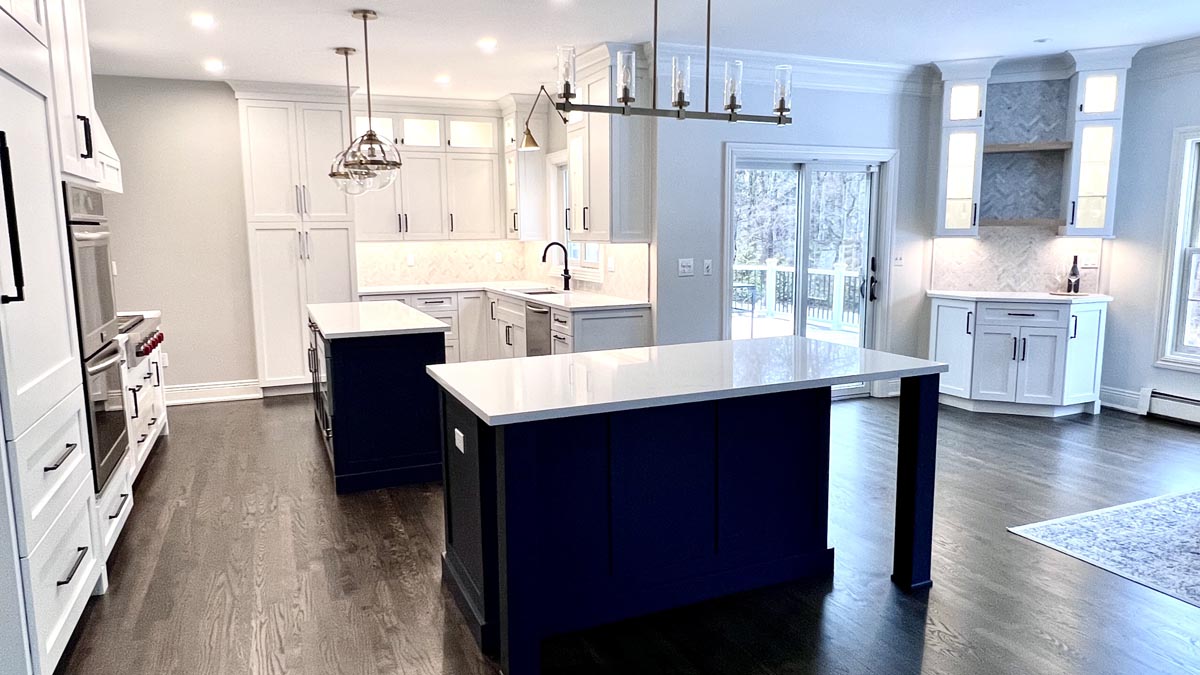 A kitchen remodel in your New Jersey home sounds exciting! What about a DIY kitchen remodel? Social media makes any DIY project look so easy, even the big ones like a kitchen remodel. It can't be that hard, can it?
A kitchen remodeling project is one of, if not THE biggest home renovation project you can do on your home. Between the kitchen cabinets, plumbing, flooring, backsplash, lighting fixtures, appliances, and more, there is so much that goes into turning your kitchen into a dream kitchen. You not only need to make it look great, but you need to complete the job correctly, meet the code, and pass inspections.
Let's look closely at what a kitchen remodel in New Jersey takes and whether it should be your next DIY project.
Understanding the Elements of a Kitchen Renovation
Remodeling your kitchen on your own or even with a professional contractor can bring up feelings of uncertainty and confusion. There are so many different elements that go into a kitchen renovation, and some of the most important ones include the following:
Cabinets

Countertops

Flooring

Paint

Appliances

Lighting

Plumbing
Most people aren't professionals at designing and installing all the different aspects of a kitchen. That's why hiring Magnolia Home Remodeling Group with our team of skilled experts to work on specific parts of your kitchen is best. You want only the best quality workmanship in your new kitchen.
Let's dive deeper into some of these main kitchen reno elements and what goes into each.
Plumbing
Don't skip the plumbing. If your plumbing is not fitted well or installed correctly, a small leak can ruin your new kitchen. Work with a plumber skilled in checking out plumbing, repairing anything that needs it, and then correctly installing your sinks, faucets, and dishwasher. A professional contracting team like Magnolia Home Remodeling Group can coordinate with a professional plumber to ensure quality workmanship across the board.
Electrical Work
There will probably be some significant electrical work that needs to be done with your new kitchen design. When it comes to electrical work, if you don't know what you're doing, you don't want to mess around with it. If you "experiment" with electrical work, you or your family could be seriously injured or even killed.
You will want to hire a professional electrician to complete the job safely and correctly, giving you peace of mind for years to come. Similar to a plumber, Magnolia Home Remodeling Group works with qualified electricians to ensure your home is properly wired.
Permits
Every city will have its own required permits when you renovate your kitchen or complete any other home improvement. Make sure you know what permits are required where you live. Magnolia Home Remodeling Group will take care of permits, inspections, etc., so you don't have to. Yes, please!
Counters, Floors, and Cabinets
Countertops, floors, and cabinets are the "pretty" part of your kitchen remodel. New Jersey homeowners can educate themselves on all of the available options and learn the pros and cons of each choice. Things like picking laminate flooring vs. hardwood because you have kids and pets are examples of knowledge about each element. Are custom cabinets that run to the ceiling worth the cost to you, or is a shorter, basic cabinet sufficient?
There are many choices to make with any home improvement. Enjoy the process but keep your budget and lifestyle in mind through it all. Magnolia Home Remodeling Group will help you through this process and help you discover the pros and cons of each option you come upon.
Pros of a DIY Kitchen Remodel
There are pros to completing some portions of a major kitchen remodel on your own if you possess the skills. For instance, if you have a lot of experience painting, doing that part of your kitchen reno yourself makes a lot of sense to save on labor costs.
Pros of a DIY kitchen remodel may include:
Being able to complete parts of your kitchen remodel a little at a time to spread out the costs

Saving on labor costs

Saving money on materials that you can find on sale

Learning new skills

Feeling proud of your hard work
Cons of a DIY Kitchen Remodel
Many people who decide to undergo a DIY kitchen remodel often start with only the list of pros. On the flip side, many kitchen DIYers end their remodel project mostly remembering the cons and how much more time it took to complete.
Some of the biggest cons of a DIY kitchen remodel include:
Time and effort it takes (extremely labor intensive)

Costing more money in the end because of mistakes and having to redo parts of projects

Compromising your family's safety

Less than quality work

Not get the completed look you desire
What Parts of Your Kitchen Renovation Can Be DIY?
When you are thinking about a kitchen remodel and start looking for ideas online, in your friends' homes, and in magazines, soon your mind fills with so many ideas!
This is where you should stop and make a list of must-haves. What things can you not live without? Unfortunately, while it would be nice to have "all the things," most of us can't afford or don't have the time or literal space to include everything we see in a kitchen remodel on the internet.
Now make a list of things you are skilled in and what you can complete independently. Do you paint? Have you laid flooring before? Are you a plumber?
Many people choose to do painting, flooring, and installing backsplash on their own to save a little money. Things like plumbing (unless you have experience), electrical work, and changing your floor plan (removing walls, etc.) are the best things to have completed professionally.
Magnolia Home Remodeling Group Can Help You Achieve the Kitchen of Your Dreams
Magnolia Home Remodeling Group can save you time by simplifying your New Jersey kitchen remodel and taking charge of the required details. You have enough to worry about in your everyday life– don't add a complete kitchen remodel to the list.
Get the job done quickly and professionally, and start enjoying your new space. Call Magnolia Home Remodeling Group to get started. We can't wait to team up with you and make your dream kitchen a reality for you and your family.