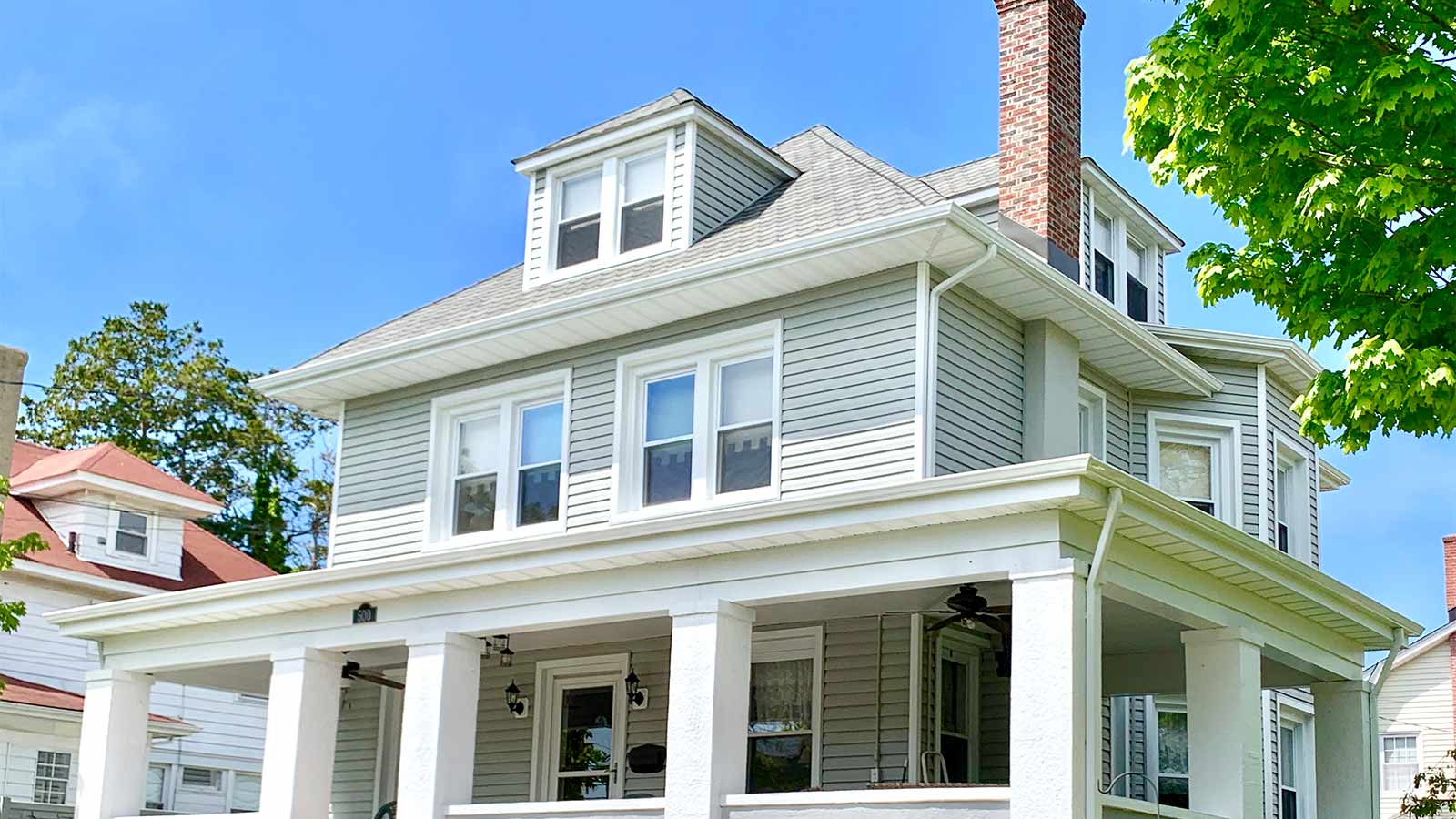 Your home's roof is its first line of defense against New Jersey's unpredictable and sometimes harsh weather. A well-maintained roof is crucial for keeping your home, family, and possessions safe and sound in hot summers, cold winters, and everything in between. In this post, we will share the guidance you need to decide the best time to replace your roof, considering the unique challenges of homeownership here in the Garden State.
What are the signs that your roof needs to be replaced?
Your roof is one of the easiest areas of your home to forget about maintaining since you're likely not spending time on it, and many of the signs of roof damage may not be obvious from a distance. Loose, cracked, or damaged shingles can be an indicator of wind damage, and while missing shingles can sometimes be easily spotted, loose or cracked shingles can blend into your roof.
Other signs that your roof may need to be replaced include granule loss, mold, rot, and moss on your shingles, all of which indicate that your roofing materials have reached the end of their life span. Finally, signs of water damage or leakage inside your home are a warning that something is wrong, and it may be hard to detect the exact source without expert help. Ultimately, if your roof frequently needs repairs for any of these issues or if the materials are past their typical life span, it's probably time for a replacement.
Which seasons are best for a roof replacement in New Jersey?
New Jersey's varied seasons each provide their own pros and cons for a roof replacement. During spring, the mild, relatively stable climate provides ideal conditions for efficient and thorough roof inspections, which can enable you to detect any issues that may have arisen during the winter. Summer's consistent warm weather, minimal rainfall, and longer daylight hours are conducive to roof replacement, ensuring that such a project can be completed swiftly with minimal inconvenience. However, summer's heat can pose its own challenges, causing discomfort to workers and making materials more difficult to handle. With this in mind, early fall strikes the best balance between warmth and chill because it offers comfort for roofers and excellent conditions for your materials. Scheduling a roof replacement in early fall ensures the work will be finished before harsh winter conditions set in, so you're proactively protecting your home from frigid temperatures and heavy snowfall.
If possible, you should avoid a roof replacement in the middle of a New Jersey winter. Winters here in the Garden State can be particularly unforgiving, with freezing temperatures, ice, and snowstorms. This can create challenges for outdoor work on your home, such as slippery surfaces, frozen materials, and reduced working hours due to shorter days. Plus, roof leaks and damage can worsen quickly in cold, wet conditions, potentially leading to extensive interior damage and the need for stressful emergency repairs. Urgent repairs can also put a strain on your budget because contractors often charge more for work done in unfavorable weather.
What roofing brands are ideal for NJ homeowners?
Here at Magnolia Home Remodeling, we're proud to carry a range of brands and products perfectly suited to our region's unique conditions. CertainTeed roofing products are backed by the CertainTeed Lifetime Shingle Warranty and include top brands like Landmark, Highland Slate, Carriage House, and many others. We also carry Owens Corning roofing solutions, including Owens Corning TruDefinition® Duration® Shingles, which give your roof a premium look at an attractive price. Since this brand offers a strong focus on energy efficiency and sustainability, its products are preferred by homeowners seeking both high performance and environmental responsibility.
IKO, another world-class brand we work with here at Magnolia Home Remodeling, is a global leader in the manufacture and supply of the highest quality heavyweight residential roofing materials, which are designed to put up more resistance against weather and the test of time. Last but not least, GAF is the largest roofing manufacturer in North America, and its products are rated #1 in shingle quality by U.S. contractors and home builders. No matter which of these quality roofing brands you choose, you can't go wrong!
Ready to get started?
While each of New Jersey's seasons offers various advantages and disadvantages for roofing work, now is the perfect time to prepare your home for the winter with a new roof before the freezing temperatures and snow set in, making work more difficult and costly. Waiting too long to make any updates can potentially lead to extensive interior damage and emergency repairs at a premium price, so don't wait.
If you're considering replacing your roof or want to assess the condition of your current roof, Magnolia Home Remodeling is available to answer any questions you may have. Our team of professional, reliable roofing contractors proudly serves Northern and Central New Jersey, and we have a range of financing options available to suit any budget to keep your roof safe, well-maintained, and secure. If you're ready to get in touch, we're here to help! Request a free estimate via this form, or reach out to our team today!