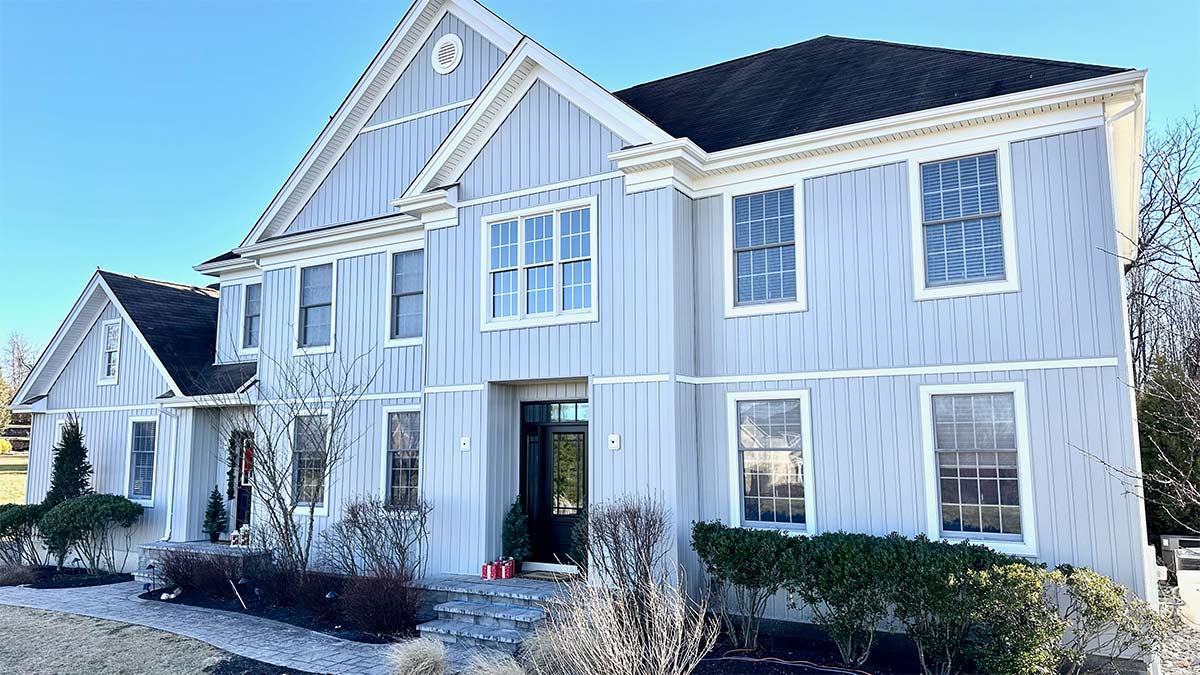 Siding for your home can be a significant investment, and finding the right option to fit your needs can feel daunting if you don't have the information you need. So what do you need to know to make the right decision for your home? We have answers.
Why is siding important to maintain for your home?
Your home's siding is not only the first impression people have of it; it's also your first line of defense to protect your family from pests and weather damage, and it can even boost your energy efficiency. If you're ignoring the signs that your siding needs to be replaced, you could be putting your home's structural integrity (and curb appeal) at risk. Plus, updating your siding can provide numerous benefits, from improving your curb appeal and lowering your energy bills to reducing your home's maintenance needs and saving you money in the long run.
What are the best materials to use for exterior siding?
Vinyl Siding
Vinyl siding is an incredibly popular house siding option in the U.S. because of its affordability, minimal maintenance requirements, and versatility. This type of siding is available in a wide range of color choices and styles, including panels, shakes, shingles, fish scales, lap, and more. Because of this material's durability, an occasional wash is the only required routine maintenance, and your siding can last for 40 years or more. Vinyl siding is also the least expensive of all siding materials to install, won't warp from humidity and moisture, and won't be eaten by insects or other pests.
Composite Siding
Composite siding is composed of two or more materials, like wood pieces, plastic, or additional materials, and is available in many colors and patterns, including panels with the texture and look of wood. This makes composite siding an attractive alternative to real wood siding if you like the look of wood but don't have the room in your budget to make the required investment. In addition to being more affordable than other types of siding, composite options require less maintenance and typically only need painting every eight to 10 years. Composite siding is also very durable and has an average lifespan of about 25 to 30 years, almost double the lifespan of vinyl siding. However, it may eventually fade, depending on the brand you choose, and can crack when exposed to extreme weather or harsh sunlight for prolonged periods of time.
Wood Siding
Real wood siding creates a timeless look, especially if you're designing a traditionally styled home, and is available in a variety of styles and options. Bevel (also called clapboard or lap) siding is one of the oldest forms of exterior home siding, and this type is installed horizontally with a finishing coat of either paint or stain on the outside. Another option for wood siding is shakes or shingles. Shakes are less uniform in appearance and thickness than shingles, but they're made of thicker pieces of wood and last longer, while shingles have a smooth and consistent look and can be cut into various shapes. Both shingles and shakes can be crafted from different woods, but red cedar and redwood are the most popular options for wood siding. One more popular variety is board-and-batten siding, sometimes called barn siding. This style creates a vertical design using wide boards spaced with narrower strips (the battens) covering the places where the wide boards come together. To prevent weather damage, all wood siding requires ongoing maintenance, including painting and caulking.
Brick Siding
Brick siding's durability, low maintenance requirements, and classic style make it a popular choice for many homeowners. Brick comes in a range of colors, textures, and sizes, and due to the cost of installation and materials, brick is at the higher end of the siding cost scale. In most environments, brick siding will last the lifetime of the building, with nothing more than the occasional washing needed. The brick veneers and fabricated brick sidings manufactured today are generally molded from actual clay, brick, or other natural materials or polyurethane. These siding options are durable, realistic-looking, lightweight, and easy to install.
Fiber Cement Siding
Fiber cement siding comes in an array of textures that give the appearance of actual wood and falls between wood siding and vinyl siding in price. Thanks to its composition of cement, sand or fly ash, and cellulose fiber, it is more durable than wood siding, since it's termite-resistant, water-resistant, fireproof, and typically guaranteed to last around 50 years.
Stucco Siding
Stucco has been used as a house siding option for centuries and is traditionally made of cement mixed with sand or lime. Thanks to its versatility and capacity to create different textures and shapes, stucco can be used as siding in a range of architectural styles. This type of siding is easy to keep clean and only requires pressure washing once per year to prevent dirt build-up in the pores and keep it looking great. Stucco is also considered to be very durable, with most warranties extending up to 20 years, but it's not recommended for areas with lots of precipitation, because rainy environments can cause the materials beneath your siding to get waterlogged.
Stone or Stone-Veneer Siding
One of the most durable building materials, stone is a natural material and more environmentally friendly than many other siding varieties. Though in most cases the cost of both raw materials and installation is higher for stone than that of other types of siding, freshly installed stone siding will be just as beautiful decades later. If you'd like to have the look of natural stone without the increased costs, stone-veneer siding is molded from actual rocks or stones and serves as a durable, realistic, and lightweight siding option. Veneer stone is created from a mix of cement, aggregates, and iron oxides, and should not be confused with faux-veneer stone, a product that feels closer to Styrofoam than to stone. While stone-veneer siding is easier to source and less expensive than natural stone, it's important to note that veneer stone is more brittle and may fade over time.
What siding brands should you consider?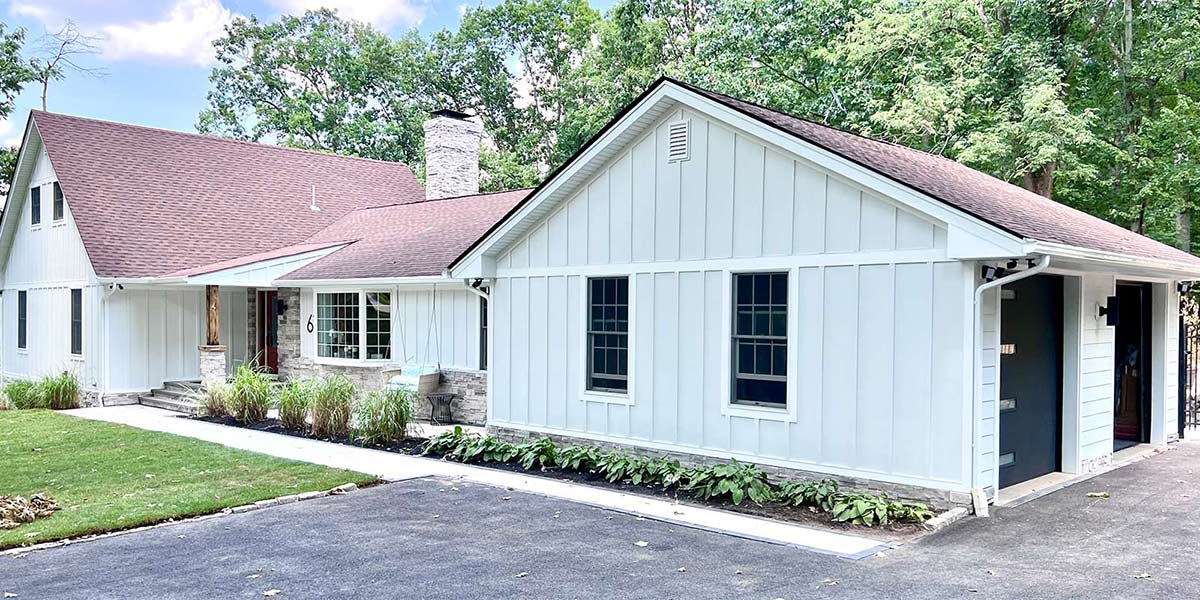 Here at Magnolia Home Remodeling Group, we're proud to work with a variety of premium siding brands to bring you the best of the best for your home. Alside Vinyl Siding creates some of the best-selling and most stylish siding products on the market today, and its siding offers high performance, low maintenance, and an unbeatable lifetime warranty. Since its founding in 1947, Alside has been a leading manufacturer of siding and continues to create innovative new products for homeowners. Another great Alside product is its innovative Ascend® Composite Cladding, a first-of-its-kind solution that combines the beauty of real wood with superior durability and easy installation for the best overall value on the market.
If you're interested in learning more about vinyl siding for your home, Certainteed Siding is also an excellent option. One of the most well-known and respected premium vinyl siding brands, Certainteed products come in a wide range of color and style choices, and their excellent wind resistance and durability make them a popular choice.
Another great brand we work with here at Magnolia is James Hardie Siding. James Hardie's products are manufactured and protected with a primer/sealer that is engineered to protect against moisture. With a broad choice of exclusive colors and styles, including America's most popular siding brand, HardiePlank® Lap Siding, James Hardie products are backed by an industry-leading 50-year product warranty that covers both labor and materials.
Learn More From a Trusted New Jersey Siding Contractor
Ready to learn more about which siding options would work best for your home? Our team of experienced professionals is ready to help! Reach out to our team to get in touch with us, or request a free estimate via this form. We proudly serve Northern and Central New Jersey and provide over 30 years of industry experience. We can also help you facilitate affordable home remodeling financing with flexible programs tailored to suit your needs, including options for monthly payment plans.